New Chambers of Wonder at the Swarovski Crystal Worlds in Wattens
During the last few weeks, four of the 16 Chambers of Wonder at the Swarovski Crystal Worlds in Wattens were redesigned by an international band of contemporary artists. I was allowed to wander through this enchanted kingdom that might also be from another dimension.
"Fantasy needs space to thrive," is how Markus Langes-Swarovski describes the vision of the Swarovski Crystal Worlds in Wattens. The place is not intended to be perfect, but is constantly changing to engage the curiosity of visitors. Since its opening in 1995, more than 13 million people have flocked to Wattens to catch a glimpse at this dazzling crystalline world. The four new Chambers of Wonder are an impressive proof of this intended constant metamorphosis. They were designed by four internationally recognized artists, Indian fashion designer Manish Arora, Austrian multi-media artist André Heller, Israeli artist Arik Levy, and Mexican star architect Fernando Romero.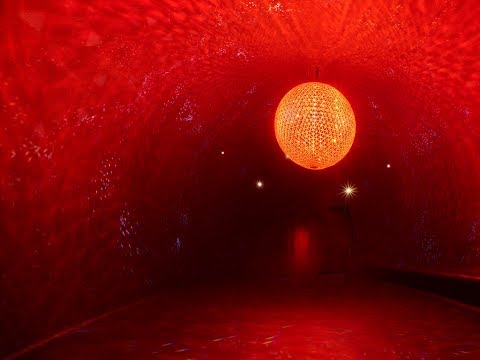 Manish Arora and Love
Manish Arora is one of the most celebrated and inspiring contemporary designers in the fashion world today. He has worked with Swarovski on several projects in recent years. The Indian designer loves to throw himself into a new project without knowing how it all will end. He has an everlasting hunger for discovering new things and his design vocabulary is characterized by expressive storytelling and brash, vibrant colours. Revolving around the theme of love, his installation beckons visitors to enter a fantastical world full of emotions. It inspires a delightful joie de vivre among viewers, making it irresistible to linger and explore these imaginative displays and sets, which show just what it is that makes life so beautiful. Manish Arora hopes that people start dancing when they move through his Chamber of Wonder. I'd love to… if only I was there on my own, without spectators :-)
André Heller and Peace
André Heller dedicates his Chamber of Wonder to the subject of peace, featuring Heroes of Peace such as Mahatma Gandhi, Martin Luther King, Albert Einstein and Rigoberta Menchú. Innovative projection technology enables visitors to see and encounter life-sized holograms of these heroic individuals who have dedicated their lives to make the world a better, more peaceful place. André Heller says that he aims at learning and changing constantly in his life. In his fascinating installation, the "Heroes of Peace" speak to visitors, offer inspiration, and share the wisdom they have learned from their lives. This is the most impressive thing I have seen for a long time!
Arik Levy and Opacity
Israeli artist Arik Levy's Chamber of Wonder reaches deep into the abstract realm of natural, archaic crystalline shapes. Stepping into this space is like a journey into yourself, as if you were exploring previously undiscovered treasures of your future self. Special floor installations create a labyrinth-like effect, where your eyes and body wander from one section to the next, from one sculpture to the next, discovering something new at every turn. In this Chamber of Wonder, every perspective seems different, and each one of the crystal structures is unique. His aim is to awaken the spirit of exploration in each of us—which is easily achieved here.
A Labyrinth-Like Installation: Arik Levy's new Chamber of Wonder
Fernando Romero and The Sun
Mexican star architect Fernando Romero has brought his widely-travelled artwork "El Sol" to Crystal Worlds in Wattens. The installation is a vast geodesic structure, designed to scale, one billion times smaller than the sun, and composed of 2,880 custom–made precision-cut Swarovski crystals. Faceted internally, the crystals augment the light emitted from the installation's core; a spherical pool of LEDs whose light is refracted by the facets. Fernando Romero found inspiration for his design in the sacred geometry used by the ancient Aztecs and Mayans in constructing their pyramids, which were built as a means to monitor celestial events. Romero endeavors to pay homage to this legacy while also employing modern technologies in creating the structure. "El Sol" is fascinating, warming and mysterious at the same time.
Fernando Romero's Artwork "El Sol"
Last but Not Least
Arik Levy says that it's great if there are places to go where you don't know what to expect. Thus I don't want to reveal too much. I just want you to know that these new installations make Salvador Dali seem sedately mainstream, however. In the end, I would like to present to you my "All Time Favourite" at the Crystal Worlds: The 'Silent Light' Christmas Tree by Dutch industrial designer Tord Boontje and British fashion designer Alexander McQueen, featuring an ice-encrusted tree in a black-and-white room where snowflakes of light drift down the walls. Bringing together the most unexpected things, the Swarovski Crystal Worlds are weird and wonderful, baffling and dazzling!