Valley Life: Pitztal
Taschachhaus Hut in Pitztal Valley
This summer, I wrote about the various Tirolean valleys and told stories of so much life in so little space in the series "
Valley Life
". I want to introduce visitors from all over the world to Tirol and open local people's eyes to the very special aspects of their otherwise familiar environment. This time: The Pitztal.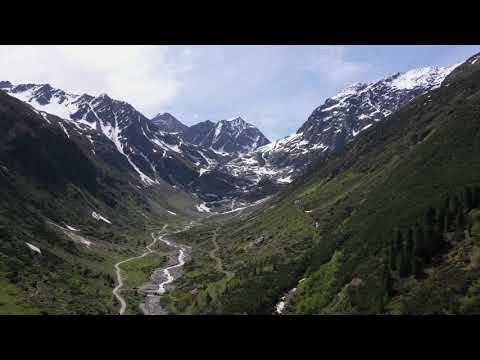 How times change: Back in the 19th Century, the people of Pitztal organised a procession to the Mittelbergferner Glacier every year on St. Anne's Day, the 26th July, in a tradition that had been celebrated for several hundred years. The eternal, nonetheless constantly changing ice, moved dangerously close to the hamlet of Mittelberg in the rearmost Pitztal Valley during the so-called Little Ice Age of the 16th Century. This was a time when no one knew any better than to interpret all kinds of natural disasters as God's punishment for the disobedience of man.
The "Pitztaler" folk (and many others in the alpine region) therefore praised God fervently every year, promising to repent and radically reform in order to appease any perceived divine wrath. When the rumour arose in 1817 that the seemingly progressive thinking diocesan leadership in Brixen had prohibited glacier processions, river blessings and avalanche holidays etc., alarm broke out in the parish curator of St. Leonhard. He immediately enquired as to whether the much lauded "Way of the Cross" to Mittelberg "really could no longer be celebrated, in order to avoid an eruption of the so very dangerous ice mountain?"
Whether the "Pitztaler" behaved disgracefully despite their solemn protestations, or whether God simply dismissed their pleas on the grounds of lack of jurisdiction, remains open to debate. What is certain is that river blessings take place to this day, while the glacier processions were abolished during the twenties of the last century.
The glacier ski resort is one of the main pillars in Pitztal's tourism industry. The spectacular Wildspitzbahn cable car to Hinteren Brunnenkogel opened in October 2012.
Nowadays, Taschachferner and Mittelbergferner, the two largest glaciers on the Wildspitze, form the solid foundation of economic life in Pitztal. Construction of the glacier lifts during the 1980's brought tourism and therefore prosperity to the hitherto impoverished Pitztal Valley, which could almost be interpreted as an attempt by a higher power "s'Maul z'mache" (make somebody a mouth). A Pitztal phrase describing a subtle diplomatic attempt to curry favour.
Das könnte dich auch interessieren