Valley Life: Tannheimer Tal
Foto: Tirol Werbung / Kathrein Verena
In the series "
Valley Life
", I write about the various Tirolean valleys and tell stories of so much life in so little space. My goal is to introduce visitors from all over the world to Tirol and open local people's eyes to the special aspects of their otherwise familiar environment. This time: Tannheimer Tal.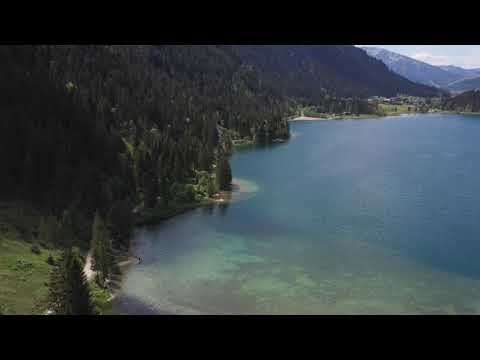 Hidden gems are those which you do not notice straight away when passing them but those which you have to search for. This is also the case with Tannheimer Tal Valley in the far north-east corner of Tirol. In order to reach this magnificent high valley, you have to either first cross the Oberjochpass mountain pass if you are travelling from the north or cross the Gaichtpass mountain pass if you are travelling from Lechtal Valley.
Vilsalpsee Lake in Tannheimer Tal Valley. Photo: TVB Tannheimer Tal
Let's keep our feet on the ground though: In times of perfect roads, the effort you have to put into these crossings is definitely held in check. However, that was a different story in the past. The ancient Romans, who preferred the steep but relatively easy path to Brigantium (today's Bregenz in Vorarlberg) through Tannheimer Tal Valley over the almost unsurmountable Arlberg, or the traders, who transported salt and wine across Europe during the medieval times, surely had exciting stories of their challenging journey.
Breath-taking views of the Drei-Seen-Weg – a trail that passes three lakes.
The broad valley offers more space for permanent settlement than most of the other valleys in Tirol. Yet, there are only a little more than 3,000 inhabitants in a few settlements. The traditional architecture from centuries ago can still be seen in the design of the houses in the valley. The west front, which has to withstand the occasional rough mountain weather, is decorated with dark wooden shingles, and the accommodation wings of the (former) farmhouses are usually aligned towards the east. Needless to say, the inhabitants of the enclave Jungholz, encompassed by German national territory, also feel like Tannheimer residents.
Spring in Tannheimer Tal Valley.
As the medieval times have already been mentioned here, let's also take a look at this famous scholastic question: How many angels can dance on the point of a needle? Up until today, this question is still often on the mind of people who are interested in theology and enjoy thinking and reasoning for the sake of thinking and reasoning. The number of municipalities which join together at the Sorgschrofen summit, however, has already been officially resolved. Namely, four in total: Jungholz and Schattwald on the Austrian side as well as Bad Hindelang and Pfronten in Germany.
Vilsalpsee is one of the most beautiful mountain lakes of Tirol.
Spectacular pieces of jewellery always draw their greatest attraction from the central gems – and that's not much different in Tannheimer Tal Valley. Haldensee Lake and Visalpsee Lake, surrounded by ecstatic summits for hiking and climbing lovers, turn this valley into a real hidden gem.
Das könnte dich auch interessieren