Valley Life: Wildschönau
Thierbach in der Wildschönau. Foto: Wildschönau Tourismus / M. Auer
This summer, I wrote about the various Tirolean valleys and told stories of so much life in so little space in the series "
Valley Life
". I want to introduce visitors from all over the world to Tirol and open local people's eyes to the very special aspects of their otherwise familiar environment. This time: Wildschönau.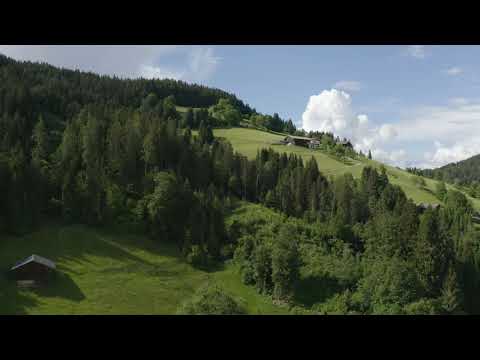 Wildschönau. Wild (wild in German) & beautiful (schön in German). The name is a sign. In the wild & beautiful Alpine valley of the Kitzbühel Alps everything that is commonly said about Tiroleans is definitely true. The inhabitants of Wildschönau are proud of their centuries-old rural customs, their ancestors, their numerous family farms and their alpine pastures. As a matter of fact, the valley doesn't present itself so wild but rather gentle for Tirolean conditions: Nearly 2,000 metres above sea level, the dairy and suckler cows enjoy their summer escape.
Wildschönau is full of soft landscapes. Wildschönau Tourist Board M. Auer ©
Really wild actually refers to something between a tasty drink and medicine. Something that's truly not everyone's cup of tea: the Wildschönau Krautinger schnapps. This schnapps made from white beet – there must have been plenty beets back then – is distilled exclusively in the Wildschönau and is absolutely unique. They have been making this schnapps for over 250 years! The distinctive as well as unconventional taste of this Krautinger schnapps has made it iconic on a regional or almost nationwide level – a tradition which the locals devotedly maintain. In the past, this was called "making a virtue out of necessity". Nowadays, this is simply called "branding".
Wildschönau Krautinger Schnapps
Another brand, but of a very different kind, can also be traced back to Wildschönau: In 1810, there was a family who had a son. His name was Alois. Most likely, he was often called Lois or when he was a child even Loisei in an affectionate way. He became a self-taught organ builder and left a legacy of around 60 instruments in nearly half of Habsburg Austria. As his family home was the Hörbighof farm, Alois was called the Hörbiger. So that means that he was the great-great-grandfather of the brothers Attila and Paul Hörbiger, who founded a famous, widely ramified dynasty of actors and actresses.
St. Anthony's chapel in Oberau
The Hörbiger, Tramitz and Obonya families have had a determining influence on the German-speaking theatres, cinematic art, and television for around 100 years. The Hörbighof farm in Thierbach is a lovely small hut, popular because of its homemade Kaiserschmarren (Austrian pancake speciality) and carries the title "Family home of the theatrical family Hörbiger".
Wildschönau is characterized by numerous alpine pastures – here you can see the Neuhögenalm alpine pasture hut.
Without a doubt: Wildschönau is especially beautiful and the locals are something special. The neighbouring villages often use the term "a Wildschnaua" – meaning a person from Wildschönau – to describe someone who thinks too much of oneself. Naturally, this is not meant seriously but is just a friendly, provocative teasing between neighbours.
Das könnte dich auch interessieren