Five Winter Fun Activities for Kids
Ort: Jerzens
Wintertime in Tirol is not only synonymous with downhill skiing. Its snow-capped peaks, powder-filled valleys and sun-soaked skies make Tirol a winter wonderland filled with fun things to fill a winter's day. Here are five winter fun activities that are sure to please every member of your family.
1. Ice Skating in Oetz
Skating at a frozen lake is a truly memorable and spectacular skating experience. Immerse yourself in the natural beauty of the surroundings and feel like a kid again, skating in the open air with rosy cheeks and a huge grin. The ice rink at Piburger See Lake is two kilometers long and four meters wide and is open to winter walkers as well—and to dads skating with a baby stroller. What's best, the frozen lake is cleared and maintained daily and you can spin on the ice for free.
Feel like a kid again.
View this post on Instagram #love #icehockey #piburgersee #winter #wouldyoupuckwithme #ccm #bauer #keepthechildinyoualive #fun A post shared by Lisa ღ (@liss.we) on Feb 11, 2018 at 12:41am PST
2. Sledding on the Natural Run in Kirchberg
It's hard for anyone not to emit a lighthearted giggle as you sail down the hill, catching a bit of air as you roll over gentle bumps. It feels so uplifting and free to be here – zooming down the hill on a sled at the speed of light, breathing in the crisp air, surrounded by these incredible mountains. The 3.5-kilometer long Gaisberg Run in Kirchberg is well-lit so you can sled into the night. The run is immaculately groomed and safe; however, don't forget to bring your helmet!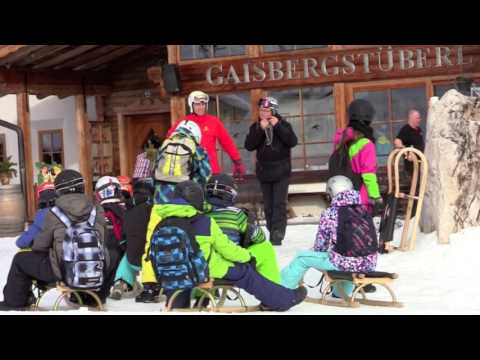 3. Build an Igloo in Lermoos
Fancy learning how to build an Igloo? Join an experienced guide and try your hand at constructing your own simple-yet-elegant "snow shelter" block by block. From compacting snow with water over cutting blocks of uniform size with a carpenter's saw to stacking layers of blocks and trimming them, participants will build a stable and even igloo within a few hours. To keep warm you will be served hot tea and hearty goulash from the open fire. This workshop is intended for kids aged 12 and older.
Learn how to build a stable and even igloo within a few hours
4. Groomer Rides in Jerzens
From one winter day to the next, when dawn breaks at Hochzeiger Ski Resort, the slopes are covered in immaculate corduroy, ready and waiting for first tracks. And while it seems like magic, the nighttime transformation really comes down to something much simpler: the hard work of expert snowcat operators. To provide a glimpse into their work, young and young-at-heart ones can join snowcat groomers while they ply their trade in Jerzens: Hop into the cab of a Pisten Bully Snow Groomer and witness firsthand how they work their magic on the ski runs. Groomer rides start after the last skiers have left for the day.
The Hum of 500 Horses Doing Their Thing in the Engine
5. Husky Adventure in Söll
For a treasured lifetime memory, come mushing with happy and hardworking Alaskan Huskies, the champion athletes of the canine world. Their origins can be traced back to the early working dogs of the Alaskan villages. The pure joy and excitement of these friendly and gentle dogs is contagious as they race and leap through the snow and kids can enjoy an up close and personal visit with Alaskan Huskies in Söll. Musher Erwin provides lots of love and attention to his canine cohorts and offers different tour options. Within moments of embarking on your dog-sledding expedition, you'll experience a rush unlike any other. "Mush!"
Husky Adventure in Söll, Photo Credit: TVB Wilder Kaiser