TimeTour: A Virtual Time Travel Experience of Innsbruck
Photo Credit: Tirol Werbung
Have you ever wondered what it used to be like in Innsbruck in the year 1905? Well, there was an iron bridge over the Inn River, a tram route across Maria-Theresien-Street and a custom house in front of the Triumphal Arch. I know that because we placed ourselves back in time: Thanks to a VR-enhanced
TimeTour
we could see Tirol's capital as it looked in the early 20th century. So don't wonder what it looked like. Witness it.
This city tour with a difference starts on the northern side of the Inn Bridge. This is where we meet the TimeTour Team with founder Gordon, developer Christoph and tour guide Gabriela. TimeTour creates an immersive 360-degree 3D virtual reality of Innsbruck around 1900 and allows you to step into history. The recreations are used on site with a smartphone headset and are paired with well-founded background knowledge from a certified tour guide.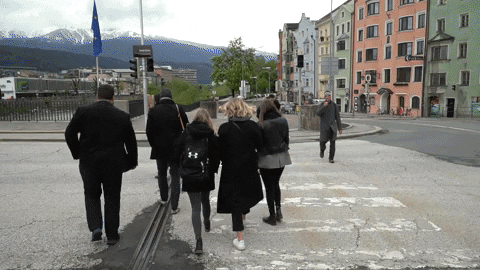 We start our tour with an analogue time travel. Tour guide Gabriele tells us about Innsbruck in the Middle Ages. Around 1500 the bridge over the river was made of wood and it was the main trading place of Innsbruck. We close our eyes, imagining what the scene before us would have looked like centuries ago.
Then it's time to transport ourselves back up to a hundred years. We are fitted with virtual reality headsets and can explore the historical bridge over the Inn River as it has appeared around 1900. Putting on the headset lets us wander the structure as it is today, as well see what it has looked like more than a century ago. Suddenly we have travelled back in time, it's amazing!
What is Virtual Reality?
Virtual Reality (VR) is the use of computer technology to create a simulated 360-degree 3D environment. Using a VR headset places the user inside a non-destructive, immersive, awe-inspiring experience. Users are able to wander around and interact with 3D worlds.
Our time travel continues at the Imperial Palace, where we see Archduke Eugen waving to us from a balcony. The big cousin of Emperor Franz-Josef moved into the Imperial Palace around 1900 and had the first bathroom installed in here.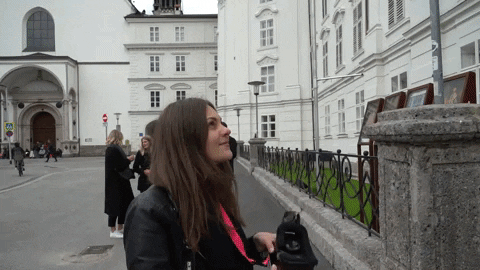 Our next stop is Maria-Theresien-Street, Innsbruck's lively, pedestrianized main artery. A tram route ran across it in 1905 and we can see the first cars driving through the splendid avenue.
Our tour ends at the Triumphal Arch. Gabi explains us what the monumental structure in the shape of an archway has to do with recycling and why people had to pay customs duty before passing through the arched passageways.
The Bottom Line of our Virtual Innsbruck Tour: This tour redefines historical interest. I could not only hear Gabi's explanations—this immersive experience gave me an incredible sense of wonder of being transported to a bygone era. The Virtual Reality headset really helped me to place myself back in time and I could really imagine how people lived like in Innsbruck around 1900. If you want to step back in time and immerse yourself in a virtual tour of Innsbruck, you can book your tour here.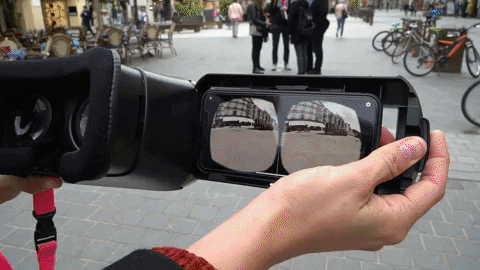 Fast Facts on the Virtual City Tour:
Duration: 100 minutes
Cost: Euro 23 per person
Bookings: office@timetour.studio or at Innsbruck Tourist Information, Burggraben 3, 6020 Innsbruck
Das könnte dich auch interessieren