Tiny Camera, Big Action! How to Make Your Own Epic Ski Movie.
If simply watching online videos of adrenaline junkies in their various exploits inspires you to put on your filmmaker hat and make your own viral ski or snowboard video, then Christoph Zarfl is just the person to talk to. He shared his top tips for creating epic videos with us. Lights, camera, adventure, action!
"Mounting a camera to your helmet makes hands free filming a cinch. Now everybody can capture their ski vacation on video and share it with friends," says Christoph Zarfl. The video expert gave us tips to make your ski or snowboard movie go from YouTube embarrassment to the next "All I Can."
Mounts und Poles (Kamerabefestigungen) erleichtern verschiedene Kameraeinstellungen.
You Rent Out Action Cams and Offer Video Editing Workshops Right at the Ski Resort. What Made You Think of That?
Christoph: "I started filming my adventures on the slopes early. Among others, I shot Freeride Deluxe in resorts across Tirol like St. Anton and Fieberbrunn. The movie was a great success on TV – it was one the most viewed freeride documentaries in Europe. Astonishingly, the clip was not much viewed online. Only afterwards, when the riders began to post their own short edits, the views increased and more skiers began sharing their videos online.
Second, my friends kept asking me how to edit their GoPro footage. While GoPros are brilliant bits of kit, turning all that raw footage into something shareable, memorable and entertaining can be a bit of a chore. Well, at least it used to be. All those who like the idea of creating their own ski video, but would still rather outsource their editing can simply join us at the Mountain Media Center and hand control over their footage shot at St. Anton to us. This helps you dodge the hassle and turn your raw footage into an internet-breaking masterpiece very easily."
Which Gear Do I Need to Make My Own Viral Ski Video?
Christoph: "To begin with, get the camera in the right position. This involves mounting it in a variety of areas to get a combination of viewpoints. However, getting an amazing shot is about much more than positioning your camera just right. It is also about knowing how to handle the camera as you go and focusing on the right angles. The latest GoPro camera, for example, can capture 120 images per second, which enables amazing super slow motion shots. We also rent ski goggles with built-in camera, 360-degree cameras and action cams with built-in GPS that allows location tracking and speedometer to be added to the video file. These devices really do capture the feel of skiing while you are going down the hill. As important as the camera is making sure that the angle of the camera is where you want it, using different mounts and poles (such as pole mount, chest mount and board, ski or boot mount). Be creative and don't be afraid to try new shots. With that in mind, you can determine how you will create your masterpiece—utilizing different mounts, slowing or speeding footage up, and generally taking into consideration how much time you want to put into everything. The most important step, obviously, is to pick skiers & riders and a location that's both visually stunning and conducive to filming. St. Anton boasts some of the most epic ski runs in the world and our video tutorial covers techniques to create and edit your own video to share with those unlucky enough few, who can't make it to the mountains."
Video Tutorial: Learn How to Create Highlight Reels Taught by Experts.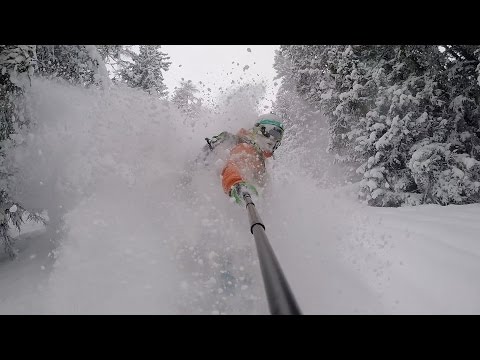 How Do I Edit My Video?
Christoph: "From capturing footage to creating videos and enjoying them with friends, there is a huge variety of free or great value apps for smartphone, tablet or PC, which make it easy. GoPro, for example, offers free Studio software, which offers how-to tips. Geared towards beginners, iMovie is a good place to start with the editing process. It's easy to start learning how to create a video that you can easily share online. Later, you can switch to similar Final Cut, which offers power and speed for the next generation of video editors."

Geared towards beginners, iMovie is a good place to start with the editing process. Many Action Cam producers offer free editing software.
How To Share Your Videos With Friends and Social Networks.
"There are various options for sharing all your moments of glory to friends, family and social networks. You can upload your video to Facebook and share it with friends or you can upload your video to YouTube and share the video link. A popular alternative to YouTube is Vimeo. Sharing short videos on Instagram is easy, too. However, Instagram limits video to 15 seconds."
Enjoying Powder in #stantonamarlberg #lovetirol A post shared by Michael Gams (@smagichim) on Feb 15, 2016 at 12:08am PST
Join one of the free Video Editing Workshops while in St. Anton, offered by Christoph Zarfl from January 29 to April 01, 2017. He will post your video on mountainmediacenter.com/videos. All St. Anton Videos can be viewed online on YouTube. Or, make your own ski or snowboard movie and enter it to win the Video Contest: Sign up and enter your own edited footage of the in St. Anton am Arlberg Area and win great prizes.
Photo Credits: Mountain Media Center / Christoph Zarfl