The ABC's of Skiing With Kids
Updated on 20.03.2017 in
Family
Ort:
A like Accommodation
From rustic mountain retreats to luxury slopeside locations and spa hotels, www.tyrol.com/ski-resorts-for-families helps you sort through the variety of Tirol lodging options and find just the right experience for your family trip.
B like Beginner Terrain
If you are new to skiing, gentle and wide open novice areas provide a spacious and user friendly area for beginners. Teaching "First Timers" is a proud tradition at "Achensee Snow Land" for example, the specially designed teaching area of Achensee Ski School.
C like Childcare
Tirol's family-friendliest ski resorts operate professional daycare facilities and great kids' clubs that offer parents peace of mind during their day on the slopes, such as Pillersee Family Ski Resort in the Kitzbühel Alps. Fully trained and qualified staff will keep littlies entertained on and off the snow—or asleep.
Skiing with kids at Stubai Glacier Ski Resort
D like Downhill Skiing
Downhill skiing is a lifelong sport. While you can learn at any age, kids have the advantage of being flexible, nimble and relatively fearless. Most Tirol Ski Schools will teach children as young as age 3. With good instruction, many kids can ski independently on a beginner slope in just a few days.
E like Entire Family
When it comes to taking a ski vacation with the entire family, Tirol is top. From specially designed kids and teens activities to fun and challenging runs for skiers of any skill level, our ski resorts work tirelessly to make sure that everyone in your group ends each day with a smile on their face.
F like Family Ski Resorts
Tirol has over 60 ski resorts that feature on-snow play areas, magic carpets, acclaimed learning programs and childcare centres: Kids love to play in the snow in these ski resorts!
G like Great Kids Ski Free Programs
Tirol's emphasis on family value is great: SkiWelt Wilder Kaiser – Brixental has free skiing for kids aged 15 and under. Kids ten years and under ski free at Schlick 2000 in Stubaital Valley if one parent buys a ski pass.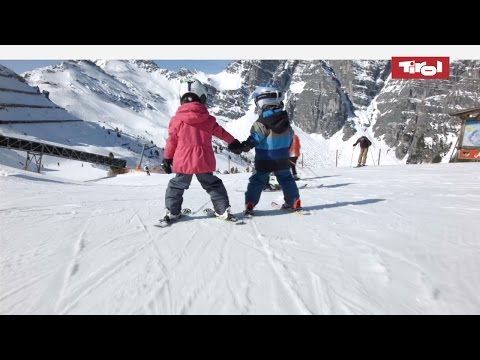 H like Health
Skiing not only boosts overall happiness and well-being, but it is beneficial to your child's physical health, as they get a good cardiovascular exercise by working the heart and lungs in the crisp and clean mountain air.
I like Instructors
Tirol's Children's Ski School instructors have the patience and the personality to get your kids on the slopes and keep them smiling. At Sunny Mountain Adventure Park in Kappl they understand what ski school means and want to give you and your family an experience that will last a lifetime.
J like Juniors
Teens can test their limits at ski resorts throughout Tirol! Boardercross trails and terrain parks offer different levels of heart-pounding excitement with perfect setup to junior skiers and riders. It's all here for you to give it a go for the first time, or take your freestyle skills to the next level: www.tyrol.com/snow-parks
K like Kids Safety Systems
Besides the finest terrain for all abilities, it's state-of-the-art gondolas and ski lifts, that set Tirol above. Many resorts have installed chairlift safety systems for kids, such as Wetterstein Ski Resort at Tirol Zugspitz Arena on their six-passenger chairlift, providing ease of mind for parents.
L like Lift
Lift operators and ski instructors are helpful if your child needs help learning to ride a platter or T-bar lift. And they will assist you in approaching the chairlift loading area so you will feel comfortable with trying your first chairlift ride.
Skiing with kids at Nauders Ski Resort
M like Mascots
Bobo, Bibi, and Big Ron: The local ski school's mascots are committed to providing the best possible experience to kids and to promoting safety by teaching little ones the skier's responsibility code.
O like On-Snow Play Areas
with fun terrain features designed for introducing even the youngest children to skiing. For example, the Hochzeiger Ski Resort offers a great experience for kids, complete with supervised lunches and snoozing time.
P like Pizza
Explain to your kids that you slow down by turning in the shape of a pizza: Ask them to use a small pizza/wedge to ski a "C" shaped turn with the emphasis on the end of the turn where the C goes back uphill. They'll discover this slows them down considerably.
Q like Quality Family Time
Skiing is a great way of spending quality time with your family. Many ski resorts offer fun activities for kids that will get your child into skiing spirit.
R like Race Day
The highlight of the week: At the end of each ski school program is race day, where little ones will show off their newly learnt skills.
Take me back #stanton #arlberg #tirol #skiinstructor #snow #skifahren #oneyearago #besttimeever Ein von Stéphanie Bartelse (@stephaniebartelse) gepostetes Foto am 17. Dez 2014 um 6:11 Uhr
S like Ski Lessons
Scenic Karwendel Silver Region and Karwendolin, their mascot, offer free ski instruction for little ones aged 4 to 12: From December 21, 2014 through March 21, 2015, your kids learn to ski for free! Plus, riding the beginner lifts is free as well!
T like Tirol
Home to over 80 ski resorts, Tirol offers some of the most epic trails and thrilling rides you'll be able to find. And, Tirol's ski resorts make for amazing family vacations. From magical events to ski trails just for kids and more, your family is sure to find a perfect winter escape.
V like Visibility
Most of Tirol's best ski schools use highly visible vests to improve visibility of little ones and thus help create a safer, more enjoyable experience for their youngest guests. Just as helmets, the brightly-coloured vests ensure the highest level of safety.
W like Walkway: Magic Carpet
A magic carpet ski lift is like a moving walkway you find in airports, except it goes up a ski slope. The name is inspired by the mythological magic carpets featured in legends. Passengers slide onto the belt at the base of the hill and stand with skis facing forward. The moving belt pulls the passengers uphill, for example at the Kids Land of the Nauders am Reschen Pass Ski Resort.
X like XL Kids Zone
With an expansive section of the mountain reserved for kids, Serfaus Ski Resort boasts outstanding Murmli Park on-snow play area, designed to develop an appreciation for the mountains and a lifelong love for skiing.
On-Snow play area Serfaus-Fiss-Ladis Ski Resort
Y like Young Tirol
www.young.tirol.at has bags of experience in organising successful school ski trips.
Das könnte dich auch interessieren