Eddie the Eagle in Tirol
Updated on 05.03.2019 in
People
With the FIS Nordic World Ski Championships in Seefeld in full swing, Tirol welcomed a very special guest: Michael "Eddie the Eagle" Edwards – the worst and the most popular ski jumper of all time!
Michael Edwards, better known as Eddie the Eagle, was the first ski jumper to compete for Great Britain at the Winter Olympics. He finished in last place at the 1987 FIS Nordic World Ski Championships, though his distance of 73.5 metres was a new British record and therefore qualified him for the 1988 Winter Olympics in Calgary. In 2016 his life was turned into a film by Dexter Fletcher with the main role of Michael Edwards played by Taron Egerton. Other well-known actors to feature included Hugh Jackman, Iris Berben and Christopher Walken. The ski jumping legend and fans' favourite sat down with us for an interview. Last but not least, Eddie the Eagle has a go at speaking some of the local Tirolean dialect!
You are here in Seefeld for a flying visit to take part in the World Team Masters. How did the event go and have you done much ski jumping recently?
I did a ski jump a couple of years ago in Norway on a 40-metre hill. There was no snow in the area, so we had to drive three hours from Oslo to be able to jump. That was the first time I had jumped for many years. I was happy it was just 40 metres – after all these years it would have been a bit hairy to jump on a 90-metre hill! Yesterday at the World Team Masters in Seefeld the jump was only 20 metres with alpine skis. I loved it! Great conditions, lots of spectators, perfect weather. My dream would be to jump just once on the new Bergisel hill in Innsbruck before I finally hang up my jumping skis for good.
Talking about Bergisel: During your career you competed in Innsbruck on the Bergisel hill as well as in Seefeld. In fact, at Bergisel you suffered a bad injury. What are your memories coming back to Innsbruck and Seefeld in the Austrian Tirol?
Yes, that is true – it was one of my worst crashes. But I try not to think about crashes too much. In fact, my crash there was all Seefeld's fault! I had been jumping so well on the 90-metre hill here in Seefeld that I decided to jump at Bergisel as well. I tried to do the same thing which had been going so well in Seefeld, but I panicked and ended up crashing.
Have you been following the Nordic World Ski Championships at home and how is the atmosphere here in Seefeld in Tirol?
Yes, I've been following it on television here in the hotel. Seefeld is such a beautiful village and there's a great atmosphere. It's nice to be around, people are happy to be here – and so am I.
Do you still follow professional ski jumping as a fan?
Unfortunately, at home in the UK the TV channels don't really show the ski jumping events on a large scale. Whenever I'm in continental Europe, I follow the events as much as I can. That doesn't always mean I am up to date with which teams are good and which teams are less good. For example, last time I tuned in I was really surprised to see Finland all the way down in eleventh place. When I was competing they were always one of the top teams.
If you compare sport events nowadays and in the past, when you were competing, what has changed?
There have been massive changes. First of all the V style. We didn't jump like that in the 1980s. The equipment has also improved, of course: bindings, skis everything is less heavy and better quality. Ski jumping is safer now because you don't fly as high as we used to. I would say that jumping is easier nowadays than in the past. Maybe I should get back into ski jumping myself!
You are still an idol for many people in terms of pursuing your goals and following your dreams. What advice would you give to up-and-coming young ski jumpers?
Resilience is most important. Never give up! Be prepared to get out and do anything it takes to pursue your dream. Never ever stop. Keep going!
From 2014 until 2016 you commentated on the Channel 4 TV show The Jump, where 12 famous people took part in winter sports in Innsbruck and Kühtai. What was it like to teach celebrities how to ski jump in such a short period of time?
Yes teaching the celebrities was tough. Some of them had never skied before. I think many of them realised during the show how tough ski jumping really is, physically but also mentally. We had lots of injuries because many of the competitors had not been on snow before, so they ended up stopping the show. It was great fun while it lasted.
The film "Eddie the Eagle" starring Taron Egerton as you and Hugh Jackman as your coach was released in early 2016 and was a success. Seefeld was a filming location for this movie. Was the film an accurate reflection of your life and how did you find it?
I would never have dreamed that anyone would make a movie of my life! Yes, the movie was a good reflection of my life and career.
The Jump 2016: Left to Right – Gareth Thomas, Caprice Bourret, Jade Jones MBE, Lydia Bright, Kadeena Cox MBE, Spencer Mathews, Sir Bradley Wiggins, Vogue Williams, Robbie Fowler, Mark Dolan, Louis Smith, Emma Parker-Bowles, Josie Gibson and Jason Robinson OBE
Do you still ski and what are your favourite resorts in the Alps and in the Tirol region? Any tips for skiing in Tirol?
Innsbruck, Seefeld and Kühtai are wonderful – but I don't have a favourite village or region as such. I have one favourite sport: skiing. I just love having a pair of skis on my feet. It doesn't matter too much where I am.
You are an active person. Which other sports do you follow or practise nowadays?
Alpine skiing and dancing are my favourites. I love to "jive". I want to be dancing and skiing on my 100th birthday – maybe even both at the same time!
Video: Eddie the Eagle speaks Tirolean dialect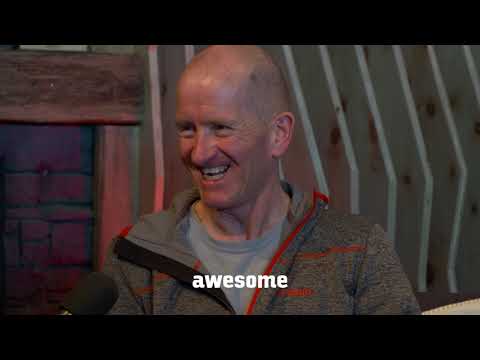 Das könnte dich auch interessieren