New Directions: The Gardener
Updated on 28.07.2021 in
People
, Photos: Verena Kathrein
More farmers, better vegetables – is that true? Tanja Westfall-Greiter runs a market garden at Hattingerberg in Tirol. She is convinced that society should pay more tribute to the cultivation of land.
"My business is small but at the same time it's really big. On this 2,500-square-metre alpine meadow, I cultivate more than 400 types of vegetables – all by hand and nearly all year round. I then directly sell these vegetables to private consumers and restaurants – this is better known as 'market gardening'. Working in regenerative agriculture and cultivating high-quality vegetables is future-proof – not only for me. As I do not require a tractor or any other mechanical devices, I reach up to six times more revenue per square metre than some large-scale farmers. Furthermore, the regenerative cultivation ensures better soils and higher biodiversity.
In Tirol, we need more market gardens like the one in Hattingerberg. This way we could offer seasonal diversity to more people. In sunny areas, this offer could be possible all year round. However, for that to happen, we would for example require polytunnels to extend the growing season throughout winter.
Garden Eden: Around 400 types of vegetables grow here in Hatting throughout the year, including different types of tomatoes. Here you can see the incredible variety of potatoes.
Tanja in her garden in Haiming in Tirol.
As a society, we have to discuss what's more important to us: Does agriculture have to look like a storybook farm? Or can our agriculture in Tirol render another string to its bow through the local production of healthy food? For me, regional food production combined with seasonal products means high quality, short transport routes – and most of all transparency. If the vegetables I eat have been grown just around the corner, then I know how they have been cultivated and I can be sure that nobody has been exploited.
I wish for society to pay more tribute to the cultivation of land in the future.
It requires a lot of courage to try out something new – giving up industrial agriculture and moving towards a more ecological cultivation is the new direction. This process is already under way but won't be easy because a whole different world of thought lies behind it. It's simply a preconception that cognitive work in front of a computer is worth more than physical work on a field. A good harvest requires a lot of knowledge and experience. I have to understand the ecological cycle on my field in order to be able to work on it.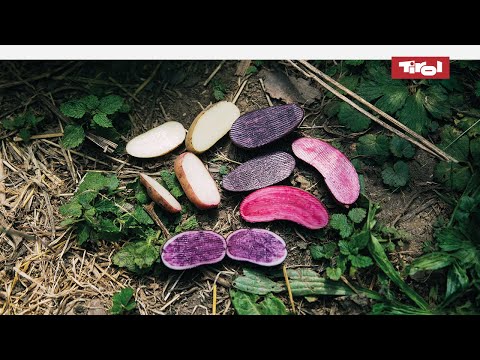 Looking Ahead
This article is part of the "Looking Ahead" series, which dives into the minds of individuals who have dared to step into the future, their story, and their views on Tirol.
Therefore, I wish for society to pay more tribute to the cultivation of land in the future. Maybe more young people would then be enthusiastic about taking over their parents' farm. Fortunately, some young people have already found good solutions, created fresh concepts and new cultivation methods. That gives me hope!"
Tanja Westfall-Greiter
Tanja Westfall-Greiter was born in the US and grew up on a farm. After her studies, she was drawn to Innsbruck and fell in love with the country and its people. She worked in the field of education for many years but then decided to go back to her roots. Today, the 54-year-old runs a market garden in Hattingerberg in Tirol. "Gardening with nature" stands for diversity, seed-proof varieties, and no pesticides.