Lord of the Harakiri
Working in the Ski Resort: Josef Geisler, General Manager of Mayrhofen Ski Resort
With a notoriously steep ski run, innovative state-of-the-art lifts and 142 kilometers of downhill trails, it's easy to see why Mayrhofen consistently ranks as a top Tirol ski resort. Behind the scenes, Josef Geisler is overall responsible for the smooth running of all operations of the resort.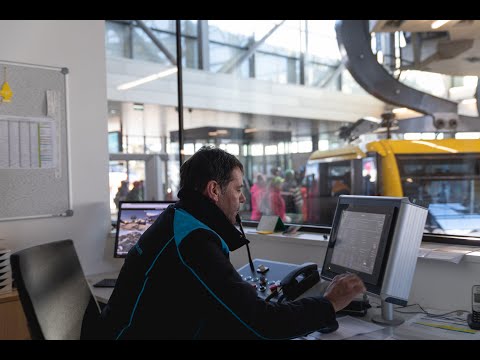 Video: Josef Geisler makes sure that the ski season on Penken Mountain is as fun and successful as possible.
Spanning the distance between the village center of Mayrhofen and Penken Mountain, 3S Penkenbahn is an innovative tri-cable gondola. It's a breathtaking, eight-minute journey in yellow cabins. The top of the gondola is the base of Josef Geisler, general ski resort manager of Mayrhofen. "A technical feat that is worthy of notice, the gondolas and lifts are much more complex these days," explains the Zillertal-native while monitoring the systems on a screen.
A strong and confident personality, Josef Geisler has been in the business for more than three decades. He is a man who not only oversees the operation, but is a major player in the day-to-day functions of the ski resort, as well, out on the slopes, in the office and just about anywhere he can assist his staff in making sure the day goes smoothly. Together they make sure equipment and ski runs are safe. "We are up on the mountain by 7:10am, checking all gondolas, ski lifts and runs. What is the weather like? Is there a danger of avalanches? What are trail conditions like? This is all done to avoid unpleasant surprises," explains the ski resort manager.
A technical feat that is worthy of notice: The 3S tri-cable gondola on Penken Mountain.
General Ski Resort Manager Josef Geisler is checking the technical facilities.
Office with a View
The window of his office is halfway snowed in, offering a glimpse of the rugged Tux Alps in the background, all blanketed in white. "Unfortunately, I spend a lot of time here in the office, as my job requires paperwork like writing protocols and supervising the day-to-day management of the facilities," says Josef Geisler. However, he is as well out on the hill each day, looking after installations and runs, checking for safety and conducting trial runs.
"Being a general manager, I find myself in charge of different jobs—and with these different jobs, learning is the most important. Technical education is required. My job requires that I stay up to date with the most recent procedures and technologies. Operation of state-of-the-art ski lifts is highly complex. Moreover, we are still in charge of maintenance," says Geisler. The 3S gondola on Penken Mountain operates 3,000 hours a year.
Safety always comes first.
From his office, Josef Geisler oversees the smooth running of all operations of the ski area.
3S Penkenbahn Gondola
Uphill Capacity: 3,000 people per hour
Length: 2,924 meters
Top Incline: 74 %
Top Terminal Elevation: 1,790 meters above sea level
Speed: 7.5 meters per second
Riding Time: 8.2 minutes
Construction Year: 2015
Cost: Euro 50 Million
Operation of state-of-the-art ski lifts is highly complex.
Lord of the Ski Runs
Josef Geisler's duties also include making sure ski runs are safe. With a 78 percent grade (translation: very steep), the thrilling double black Harakiri Trail rakes in hard-core honours for being one of Austria's steepest downhill runs. This sickeningly steep terrain requires a special winch cat to groom.
"I have to decide if we open the Harakiri Trail or not," says the ski resort manager. The Ski Resort on Penken Mountain is vast and Josef Geisler is as well responsible for grooming. The members of the grooming crew have to push and till the snow on dozens of ski runs into the corduroy that sounds like a zipper under-ski. Grooming takes long top-to-bottom passes on each run.
Josef Geisler's duties also include making sure that Austria's steepest downhill run is a safe experience.
The ski resort manager is responsible for grooming.
Nature and Mountains at one with Technology
"Nature and mountains at one with the ski lifts—that has always fascinated me. I have the best job in the world up here, above all when the sun is shining," says the general manager of the ski area.
If you are someone who's always wondered about the technical details of a ski resort, you can join Josef Geisler for a behind the scenes tour of 3S Penkenbahn Gondola in Mayrhofen each Wednesday at 2:00pm.
Photo and Video Credits: Bert Heinzlmeier
Das könnte dich auch interessieren