The Village Lift of Navis
Updated on 05.03.2019 in
People
Photo Credits: Bert Heinzlmeier
Installed in 1960, powered by a 42-horsepower diesel engine, crossing the village road: The T-Bar lift of Navis represents a fading era of the snow sport. Lift operator Friedl Peer has been keeping the lift running for two decades.
Stop! The lifting barrier gates are down and all is ready for the skiers to pass. Skiers have right of way at this intersection on the village road of Navis. The barrier lifts and lets the car go through. This is without a doubt Tirol's most amazing intersection. "The system is completely safe. There is a shutdown system that stops the ski lift in case of emergency," explains local politician Vinzenz Gebauer.
Video: Vinzenz Gebauer explains how traffic is regulated at Tirol's most amazing intersection.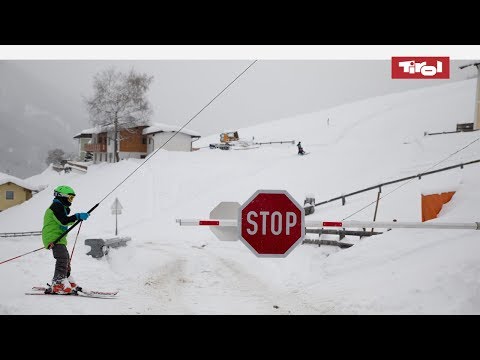 The Ski Lift as a Service to Local Residents
Endless ski runs, heated ski lift seats and contemporary mountaintop restaurants: With ever-evolving technology and an unquenchable drive to offer visitors the best, Tirol's ski resorts compete for national (and in some cases global) bragging rights. But in a country with so many mountains and little towns and villages, you don't have to stick to the world-famous. Several mini ski areas dot Tirol's mountainsides, many operated by local governments and all offering that back-to-basics love of snow and sport. Affectionately known as the "mayor's lift", almost every Tirolean learned to ski at one of these local resorts and many a ski racer's career began here, too. For a classic Tirol ski experience, head to these off-the-radar hills and see what the locals are (quietly) raving about. Such as the ski lift of Navis, for example.
Local ski hills represent what skiing used to be, where prices are low and a strong sense of community permeates everyone on the snow.
Ticket punching: Each lift ride is punched with a train conductor's ticket punch.
Parents can rest assured that we are around, keeping a watchful eye on their little ones."
"Without our ski lift, people would have to drive far away to Steinach in order to ski," says lift operator Friedl Peer. Grünberg Lift is a great place to ski without spending a lot of money. Obviously, the ski hill isn't huge. But what it lacks in size, it makes up for in price. For €25 kids can ski all winter season long; adults can ski all day for €10 and ticket punching is a popular option as well. On this afternoon a few days before Christmas, it seems that half of the village is up here on the local ski hill. Friedl Peer knows most skiers by their names. "Parents can rest assured that we are around, keeping a watchful eye on their little ones." Kids get home from school, put their ski gear on and head off to the village lift. Homework has to wait until after dusk. Now it's all about having a great time building ski jumps.
Kids are having a great time on the small ski hill.
Local Ski Hills
In the wake of the mega ski resort boom, it's a comfort to know Tirol still has many local ski hills that remain treasures of their communities. Scattered across the state, these hills harken back to an older time. They represent what skiing used to be, where prices are low and a strong sense of community permeates everyone on the snow. Lift ticket prices and crowds are significantly reduced. The mountains are smaller, the lifts a bit slower; but what these places lack in modern efficiency, they make up for in charm. These are the places to introduce young kids to the sport of skiing as the forgiving terrain is ideal for learning. Often overlooked by visitors, in-village ski areas can be found at many a destination in Tirol. Hidden just at the edge or sitting right at the heart of the village, these awesome ski hills are practically invite-only. And when you get off the beaten track, what you're likely to find are shorter lift lines, lower ticket prices, and a higher percentage of locals with you on the slopes. Tickets are sold on the spot.
Mid-Shift Meal Break
Friedl Peer and his two employees work from nine to four; the ski lift takes a midday break each day. "This is when both skiers and lifties take a mid-shift meal break. We all go home and have lunch," smiles the ski lift operator. As there is no computer-assisted capture of skier data, no one can say how many skiers are carried to the top by Grünberg Lift. Especially during school holidays and after school during the week, many skiers flock to Navis' ski hill. Days of operation vary depending upon snowfall, but generally the ski lift is in operation 70 to 100 days a season.
Grünberg Lift Stats:
Installed: 1960
Inclined length: 700 meters
Number of towers: 3
Number of T-bars: 36
Drive: Deutz 6-Cylinder in bottom station
Motor: 42 HP
Employees: 3
Deutz 6-Cylinder Diesel Engine.
The 'Dinosaur' Among Ski Lifts
Having run at another resort for ten years before arriving in Navis in 1970, the T-Bar lift represents a fading era of the snow sport. Powered by a 42-horsepower diesel engine, Grünberg Ski Lift is one of only very few still in operation. "Keeping that 1960 lift running reliably after decades of use isn't a straightforward proposition, particularly as off-the-shelf parts become unavailable and seasoned mechanics retire. The lift's original manufacturer encourages us to keep the lift running as long as possible," says Vinzenz Gebauer. Repairs and maintenance are expensive, that's why the Provincial Government of Tirol supports local ski hills with subsidiaries. The village renewed permission for the following five years; after that the council of Navis will have to evaluate local ski lift operation once again.
All af a sudden those bands were no longer available for sale."
Luckily, the magic of small Tirol ski-hills is not lost. For a true taste of old-fashioned skiing — we're talking Eighties — visit the tiny rural hill in Navis and hop on one of Tirol's oldest operating T-bar ski lifts. Like a railroad conductor on a passenger train, Friedl Peer punches each lift ride with his ticket punch. An important accessory for traditional paper lift tickets is the thin white rubber band, which is used to fix the ticket to the ski jacket. "When all the big ski resorts replaced paper lift tickets for RFID cards, those bands were no longer available for sale," recalls Vinzenz Gebauer. Luckily, he was able to get hold of those bands at the neighbouring ski resort of Bergeralm in Matrei. "When they heard of that problem, they gave us their roughly 25,000 remaining bands. These stocks should last for well over a decade." Hopefully, Grünberg Lift will keep running that long as well.