From the field to the dining table: the Lindhof farm in Thiersee
Reducing CO2 emissions and refraining from using any artificial fertilisers or pesticides. One of the youngest hoteliers in Tirol is committed to serving sustainably-grown produce from his own farm.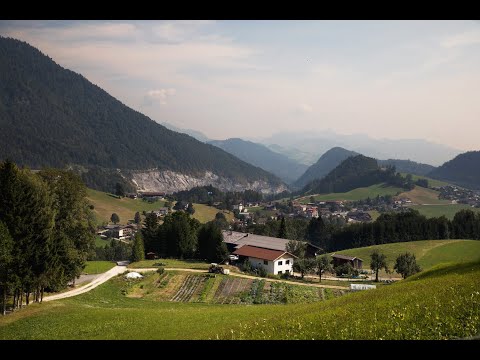 "Nowadays, you often just don't know what you are buying any more," says Stephan Mauracher, who, at the age of just 26, is one of the youngest hoteliers in Tirol. He produces most of his food on the 'Lindhof' family farm, in the village of Thiersee, where they grow three tonnes of vegetables every year: pumpkins, crisp lettuces, juicy cucumbers, aromatic herbs and much more besides – and all without using any artificial fertilisers or pesticides.
The heart of the Mauracher family: the 250-year-old Lindhof farmhouse in Thiersee.
Stephan likes to keep an eye on the farm himself, as much as he can.
A pioneering family
Several years ago, the Maurachers wanted an easier way to serve the customers of their two hotels with regional food, and so bought and renovated the old farmhouse. The 450 fruit trees now provide the guests with fresh fruit and the breakfast buffet is stocked with honeycombs dripping with honey from the beehives. Meat, eggs and milk from their chickens, geese, sheep and highland cattle are also on the appetizing menu – at least, in Stephan's Alpenrose hotel in Kufstein.
On the other hand their sister business, the Ayurveda Hotel Sonnhof, has actually specialised in meatless cuisine. Stephan's mother, Brigitte, brought the ancient Indian art of Ayurveda to Tirol over a decade ago, establishing a unique hotel in Hinterthiersee which has since attracted health-conscious guests from all over the world.
450 trees supply the family's two hotels with fresh fruit.
100% of the eggs eaten in the hotels owned by the Mauracher family come from the Lindhof farmhouse.
The challenge of regional cooking
In his restaurant at the Alpenrose, Stephan uses high-quality seasonal ingredients from the region, mainly from the Lindhof farm. His team have to be creative: "We have re-discovered some of the old arts of cooking, like pickling vegetables." Any spare of fresh produce at harvest time is either given away to the staff or sold cheaply.
Stephan's biggest challenge is ensuring a stable supply of food from regional producers, whether it be for game, berries or mushrooms. Even if it's not possible all of the time, he is convinced that his guests can do without some ingredients: "Buying strawberries from abroad in November is simply unsexy," he says.
Stephan with one of his beloved Scottish highland cows.
Dozens of happy geese on the Lindhof farm.
A breath of fresh air from the young manager.
Born into a family which owns a successful hotel business, Stephan worked in Switzerland before returning home and now manages 16 employees. "As a boss I want to set a good example. That's why they respect me as their boss even if I'm so young." Whenever he has time, he checks on how things are going at the farm. "When he was a boy, he was usually to be found in the barn or on a tractor," recalls his father and mentor Johann Mauracher.
The lovingly restored farmhouse has a fabulous view across the Thierseetal valley. As well as being a source of food for the restaurants, the farm is also a venue for herb tours, cookery courses, seminars, weddings and business events. "We make people happy. Whether with good food, good wine or simply having a good time," says Stephan Mauracher, a restauranteur through-and-through.
Photo Credits: Bert Heinzlmeier
Das könnte dich auch interessieren