Nordic Skiing in Tirol – My Best 8 XC Ski Tracks
Cross Country Skiing in Seefeld (c) Tirol Werbung
During the last few years, I more and more became a big fan of cross country skiing – I started with the skating technique but over the last two years I found classic is the way to go. Fortunately, I was lucky enough to ski in almost all of Tirol's Nordic ski centers. So here's my best of list, my personal top eight of Tirol:
1. Falzthurn – Gramai
And the Oscar goes to… Falzthurn-Gramai XC Ski Track! This 14-kilometer long track has all that makes cross country skiing such a powerful experience. It is the combination of awesome natural beauty, solitude, repetitive motion, physical exertion (the track climbs a nasty 300 vertical meters on 7 kilometers) and, importantly, two wonderful trailside inns, that makes for a tremendous wow moment. Again and again!
2. "Grenzland" Border Area XC Ski Track in Obertilliach
In East Tirol, I fell in love with Obertilliach —there is something extraordinary about the "Grenzland" Border Area XC Ski Track that makes skiing it a truly memorable experience. I guess it's the amazing mountain scenery and the appeal of skiing along the border to Italy. Moreover, the village of Obertilliach is on top of my list anyway, hard to beat when it comes to rural idyll & peacefulness.
3. Unterleutasch XC Ski Track
In the Leutasch area, my favourite cross country ski track is the one in Unterleutasch. It provides beginners and intermediate skiers with nearly 14 kilometers of well-groomed trail that meanders through an area of awesome natural beauty. The wide open meadows on the base of Ahrnspitze Peak are especially beautiful on a sunny day—you and the sun will be beaming with joy all along the route.
4. Zeinis – Kops XC Ski Track
Last winter I skied a very special high altitude XC ski track for the first time and it took me by storm: The 11.5-kilometer long Zeinis – Kops track in Galtür, a high altitude route that climbs to a 1,500 meter elevation at the end of scenic Paznaun Valley. Since this track sits at a higher elevation, it receives lots of snow and the gorgeous views of the Silvretta Range's lofty peaks create memories that will stay with you forever. What's more, Galtür is one of my favourite places in Tirol, too.
5. Silvretta – Bielerhöhe High Altitude XC Ski Track
Another one of my Tirol highlights – in the true sense of the word – is located in Galtür as well, the Silvretta-Bielerhöhe Skier's Track. The steep climb gains 400 vertical meters and provides a good workout, fortunately, there are many opportunities to catch my breath and scan the horizon. The rewards are great—outstanding views—but they come at a substantial price. Be prepared to work for every view you get :-)
6. Vilsalpsee Lake Loop Route
In Tannheimertal Valley I have fallen for the route leading from Tannheim to Vilsalpsee Lake many years ago. The 13-kilometer long track starts in Tannheim and meanders through the heart of the Vilsalpsee Lake Nature Reserve, taking cross country skiers to the beautiful lake of the same name. The elevation gain of 300 meters adds just enough challenge. And views! Between breaths, I always have to stop to take in glorious vistas.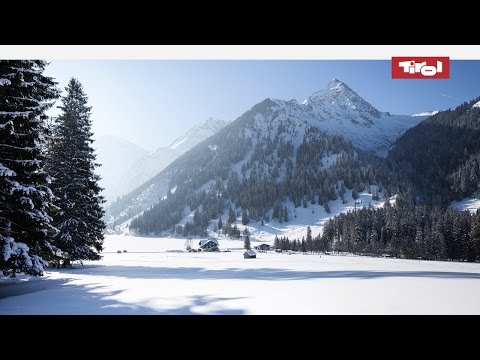 7. Katzenloch XC Ski Track in Seefeld
Another one of my must-dos in the Seefeld Olympia Region is Katzenloch XC Ski Track. Cruising this nearly 7-kilometer long track rewards with stunning views of Inntal Valley below. Moreover, it passes Ropferstubn Inn that makes a memorable place to take a rest. Don't miss it!
8. Tschey XC Ski Track
Somewhat off the beaten track is the Tschey XC Ski Track near Pfunds in Tirol Oberland Region—so there are usually relatively few people to share the trail with. This amazingly scenic track showcases the enduring might of nature and winds through the high-lying valley above Pfunds in easy ups and downs. Although prized for its beauty in the summer and fall, I'd say Tschey is equally beautiful in the winter.