The Stubai WhiteWaterWalk
Neustift, Stubai Tirol | © TVB Stubai Tirol/Andre Schönherr
17-year old Alexander Pale is attending "Zillertaler Tourismusschulen" Tourism College and loves to visit sights and attractions whenever time allows. Currently he is an intern with the Tirol Team. In this guest post for the TirolBlog he writes of his favourite trail, the WhiteWaterWalk in Stubai Valley.
Water is absolutely essential for all forms of life. Built in 2016, the wheelchair accessible WhiteWaterWalk makes this natural paradise in my home valley of Stubai accessible to all. This stunning trail in the Stubai Alps lets you stroll right next to the powerful, frothing rapids and puts you up close and personal to white water in all its forms.
Neustift, Stubai Tirol | © TVB Stubai Tirol/Andre Schönherr
My favourite destination on warm or hot summer days is the "WildeWasserWeg" White Water Walk. Walking on foot of the cascading waterfall, you can feel the misty water spraying on your face. Findings from a study carried out at the University of Salzburg confirm that white water even has beneficial impacts on health and well-being – the mist that drifts from the exhilarating gush of water over the cliffs is a sublime natural air conditioner.
The first segment of the White Water Walk is the most popular one to explore. This scenic stretch is 3.5 kilometers long and takes some 1.5 hours to complete. Trailhead is the quarry in Ranalt, which is located on the banks of Ruetz River. The trail follows the river through spectacular Ruetz Cataract to Tschangelair Alm Alpine Pasture Hut and ends at mighty Grawa Waterfall. The trail was designed with a moderate grade and is easily accessible by wheelchair users and baby strollers.
The mist that drifts from the exhilarating gush of water over the cliffs is a sublime natural air conditioner—and highly beneficial for the respiratory tract | Photo Credit © TVB Stubai Tirol/Andre Schönherr
Grawa Waterfall
Grawa Waterfall is the most famous and spectacular of the waterfalls on the trail. It is the broadest waterfall of the Eastern Alps and an outstanding natural spectacle.
If planning a trip along the White Water Walk, I strongly recommend to visit during the "Genusswandernacht" night event, which takes place twice each summer. On these two special occasions, the waterfall is illuminated in beautiful colours. What's more, there's live music and local specialties are available. A wonderful stop for your Tirol food-forward itinerary!
And although I have taken many a walk along the WhiteWaterWalk, it never fails to impress. What's really up next on my bucket list is to visit it in the wintertime, when most of the waterfall is covered by ice.
Grawa Waterfall during the Night Event | © TVB Stubai Tirol/Andre Schönherr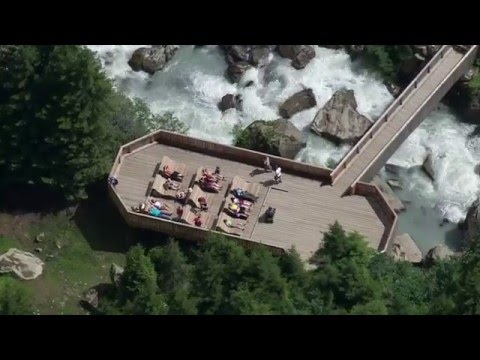 Das könnte dich auch interessieren