Ski Resort Review – What people think of the Stubai Valley ski areas
Updated on 08.11.2017 in
Sports
Want to know what Stubai in the Tirol region of Austria is really like? British journalist and filmer Chris Moran visited in his series of the chairlift chat the Tirolean ski resort and spoke to visitors and locals on the chairlifts, in the bars and on the slopes to get their take on it.
We have summarzied why its worthwhile visiting the Stubai valley:
Be one of the first ones on the slopes. Stubai glacier is part of the 5 Tirolean glaciers and is opened for skiing from September until June
Visit the Top of Tyrol and enjoy spectular views from the viewing platform on 3.210 m
Ski or snowboard one of the best funparks, the Moreboards Stubai Zoo; Stubai glacier is one of the trainings base of the British Park & Pipe Team
Visit the ice grotto on Stubai glacier
Toboggan down on one of the longest runs at the Serlesbahn in Neustift
Check out the family ski Resorts Schlick 2000 in Fulpmes in the Stubai valley
Enjoy a dip into the Stubay indoor swimmming pool and outdoor centre.
To check out the film, watch it here on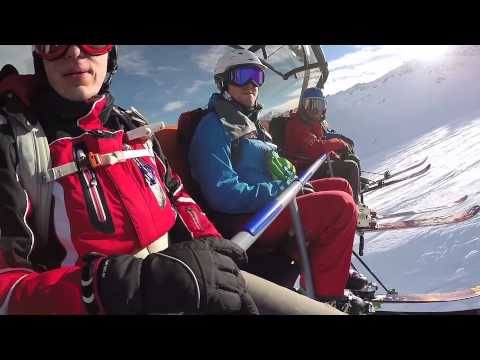 And here are a few opinions and impressions from people in the ski resort:
Prachtige skidag #stubaiergletscher picture kor bakker pic.twitter.com/ikx2ZQBW0n — kor bakker (@korbakker) February 26, 2015
🎿🐇- Where I spent the day. #Schlick2000 #Austria #skiing #fatherdaughtertime pic.twitter.com/GYYWty0xSZ — Robyn Ulmer (McKee) (@robynulmer) February 18, 2015
#me #czechgirl #mountains #Austria #Alps #Sun #holiday #vacation #winter #snow #ski #snowboard #happiness #love #selfie #instapic #picoftheday #instago #gopro4girls #goprohero3 #gopropics #tbt #vsco #vscocam #Stubai #StubaierGletscher #Tirol #Rakousko #Tyrolsko #Alpy A post shared by K. 🍁🍂 (@vaculda8) on Feb 15, 2015 at 7:45am PST
My favorite playground! 📷: @vlad._.b #stubai #snowboarding #DreamRideLove A post shared by Viorel Corbu (@viorelcorbu) on Feb 9, 2015 at 10:10am PST
If you'd like more information on the Stubai ski areas, then please visit stubai.at