Getting Started in Cross Country Skiing – Classic & Skate Skiing Techniques
Updated on 22.01.2016 in
Sports
Last winter, it was Christine's first time on skinny, Nordic skis. Thomas, a cross country skiing instructor in
Seefeld in Tirol
, taught her some basic techniques. Given its low risk of injury compared with Alpine skiing, cross country skiing is becoming increasingly popular among people looking for a fun winter sport with great health benefits. Every stage in your development from beginner to expert is fun. On an easy track, you'll have a great time at every step of your journey—and you can find the magic "flow" of
cross country skiing
at any skill level.
Classic Cross Country Skiing
In classic cross country skiing, the skis slide parallel along packed-down, groomed trails with two tracks to slot your skis into. Using waxless classic skis that grip the snow with tiny scales and taking professional tuition is the best way to learn classic cross country skiing. We checked in with Thomas, a cross country skiing instructor at the XC Academy in Seefeld, who showed us the basics of classic cross country skiing technique: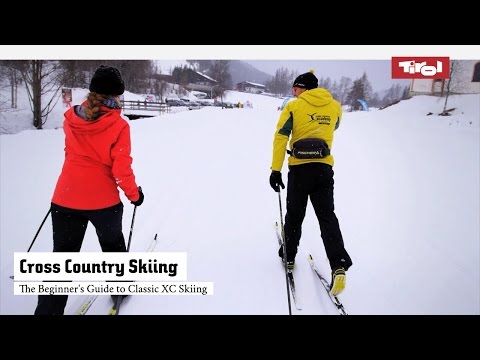 Classic skiing is at least as technically difficult as skate asking. In fact, Thomas argues it even requires more finesse. It's simply that classic skiing with poor technique is less exhausting than skate skiing with poor technique. We think it's more fun to ski with excellent technique than to shuffle along the trails—and that's why taking expert instruction to hone your skills is strongly recommended.
Groomed cross country ski trails with an awesome backdrop in Seefeld
Skating
The surface requirement for skate skiing is a wide, groomed snowy path surface to make the sport work effectively. You cannot skate ski inside the ski tracks cut into the trails for classic skiing. It's best to skate on the surface of the trail itself, next to the ski tracks. Summing up, skate skiing is more about glide. If you're just getting started in skate skiing, here's what cross country ski instructor Thomas recommends: