Upstream Surfing in Tirol
Upstream Surfing, River Surfing, Surfing Tirol, Inn
Mention Tirol and the mind turns to mountains, skiing, maybe mountain biking or yodelling. But not surfing. Yet in this mountainous country thousands of miles from the seas, a growing number of landlocked surf addicts are heading for Inn River to catch a wave.
"I noticed some surfers on the wave in Inn River and it looked so cool that it had my interest sparked immediately," tells Denise Krug. The Tirol native is waiting for her first surf lesson. She is a bit worried about the water temperature, though. "How am I going to handle a long time immersed in a raging, ice cold river?" Surf instructor Michael Strobel explains that they use thick 5/4 full wetsuits for very cold water. "This allows spending three hours in the river without getting cold."
The Inn River surfers wear thick wetsuits that keep them warm in the freezing cold water.
Up Stream Surfing: Flying across the surface of the water.
The Surprising Power of Really Simple Physics
Michael Strobel, 30, is hooked on surfing. Close to the Innsbruck Airport, he has opened the first Up Stream Surfing spot in the world. Attached to a bridge, the surfer is towed by a sustainable rope lift which uses only the power of the river itself. And powerful it is, carrying boarders more than 300 meters upstream. Experts are flying across the surface of the water, mastering wakeboard turns and tricks while reaching speeds of more than 20mph.
And this is how it works: The system consists out of three parts: a sail, a pulley and a rope connecting the surfer and the sail and requires minimum two persons.
Surf's Up, for Everyone
After a warm-up and dry lesson, Denise wades into the river and takes on swimming. "We Tiroleans are all a bit scared of the Inn River," she says. Surf coach Michael imparts his knowledge and helps her to get comfortable with the waves and the river.
Denise tries to get comfortable with the Inn River.
Over the next hour, Denise tries to paddle on her board and to actually stand up. "Standing up is a bit wobbly, but at last feels good. And I'm warm in the wetsuit, I'm surprised to find," says Denise. She shows talent and advances to the pulley. "It's very safe and there's no need to be scared or worried. Our lessons don't require any previous surfing experience; all you do need is to be a good swimmer," explains Michael. Lessons are geared towards people that aren't necessarily from the surf background. Up stream surfing is a new sport with evolving safety standards, he continues. Safety and enjoyment are his number one priorities.
The surf coach helps beginners to get comfortable with the waves and the river.
Denise is a fast learner, showing grace and composure on the board.
Bringing the Seas to the Cities: Surfing on Downtown Rivers
"We thought about bringing our love for surfing to the rivers. About an opportunity for people who are landlocked to surf without travelling to the ocean. We thought that river surfing could happen in Tirol," remembers Michael. Together with two fellow surfers he has carefully worked out an amazing system: Thanks to a submerged, underwater sail and a pulley system that diverts the river's flowing water into waves, surfers can ride river waves. The sensation of upstream surfing is something like river surfing, surfing and wakeboarding all thrown into one. Plus, it's simple, low-cost and completely sustainable.
The team aims at exposing river surfing to a huge population by bringing its patented system to the cities of Europe – all that's needed is a clean river and a bridge. Michael says he hopes that Up Stream Surfing could complement, not replace, the experience of being in the ocean. "The idea is to introduce more people and grow the sport, but do it in a responsible manner."
Thanks to a submerged, orange coloured underwater sail, surfers can ride river waves in Tirol.
Up Stream Surfing vs. River Surfing
In 1970's Munich, Germany, a small group of adventurous surfers took to the Eisbach River near Englischer Garten Park. Holding tight to two ropes attached to a bridge, they balanced on wooden planks in the river to mimic the ocean surfing they had encountered abroad. This is the moment many river surfers believe the sport was born. However, river surfing can be dangerous as surfing standing waves is not the easiest of tasks and those rivers are often located in mountain environments and remote wilderness areas. Up stream surfing, to the contrary, is safe and can be enjoyed in urban areas.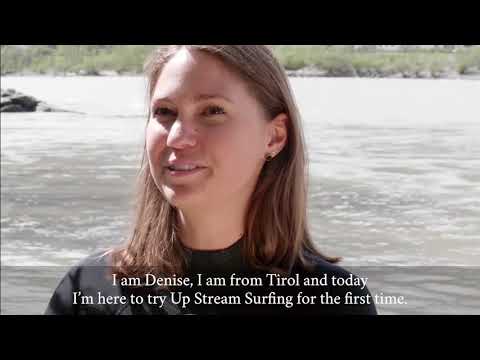 In this video, Denise Krug tries river surfing in Tirol for the first time.
Denise's surf session comes to an end after three hours. Despite fatigue from frantic swimming and positioning, she makes one last attempt to actually stand up and surf. She lets the water work for her, tugging in, pushing out, and pulling over until—ta-da!—she manages to stay upright and is held in place by the Inn River waves. We hear a happy "Whoop!". Denise paddles back to the shore and gets a high-five from her coach. "It was super fun. It's fast, it's exhausting, it's wobbly, but I really, really loved it," she resumes.
Back on the shore, Denise gets a high-five from her coach.
Photo & Video Credits: Shoot+Style
Das könnte dich auch interessieren