Winter Hexathlon: Discover Olympic Winter Sports in Tirol
Hop into a bobsled and take an adrenaline-fuelled ride down the Olympic Bobsleigh Run. ©Innsbruck Tourismus
At the moment, all eyes are drawn to South Korea's Pyeongchang for the 2018 Winter Olympics, where athletes from all over the world are fighting for their chance at glory—and where Olympic Medals are awarded across 102 events. If you've ever wondered what it feels like to be an Olympic racer, Tirol is the place to start! Try doing it at 90 km/hr on a twisting track of ice to found out. Think you've got what it takes? Give it a shot on one of these six former Olympic venues in Tirol.
1. Bobsleigh: Coast through icy twists & turns at speeds of up to 90 km/hr
"That's just incredible!" are the words that Tirol-native David Gleirscher used to describe his feelings after he became a surprising Olympic champion in men's luge at the 2018 Winter Olympics in Pyeongchang. Find out what it feels like yourself and take an adrenaline-fuelled ride down the Olympic Bobsleigh Run in Igls that was built for the 1976 Olympic Winter Games at Innsbruck. Today, visitors can experience the action first-hand with passenger bobsleigh and skeleton rides. With guidance from a trained bobsleigh pilot, feel the rumble of the bobsled thundering down the 1,300 meter-long ice track through 14 twists and turns at speeds of 90+ km/hr. For the most intrepid winter adventurist, you can launch yourself head-first down and experience a rush like no other at skeleton.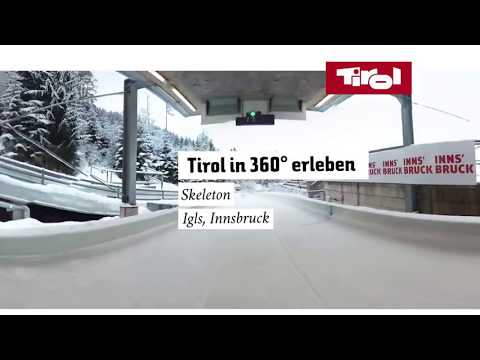 2. Biathlon: Step up to the range, take aim, and zero in your shooting skills
The Olympic Cross Country ski trails of Seefeld hosted Nordic competitions for the 1964 and 1976 Olympic Winter Games and for the Inaugural Youth Olympic Winter Games in 2012. One of the hallmarks of Tirol's Olympic legacy, Seefeld has held its place as a world class destination in Nordic Sports. Skiers have always found trails fit for the Olympian inside them, no matter their ability. Step into a pair of skinny skis, breathe in the fresh, crisp air and follow meticulously groomed trails through the snowy woods and across the sunny upland plateau. Did you know that biathlon is the only winter sport that involves ski wax and bullets? And did you know that Seefeld is one of the few places you can learn about it and experience being a biathlete? After all, Seefeld is home to one of Europe's state-of-the-art biathlon facilities. Take an in depth look at this challenging sport that combines freestyle skiing and rifle marksmanship with a lesson at the Cross Country Academy.
Be a Biathlete Program at the Cross Country Academy. © Region Seefeld
3. Freestyle Skiing: Attack the moguls with confidence
Freestyle skiing made its debut as an Olympic sport at the 1992 Winter Olympics, with medals awarded in the moguls event. Mogul skiing consists of one timed run of free skiing on a steep, heavily moguled course, stressing technical turns, aerial maneuvers and speed. Such a bump field can be found at Elferlift Ski Resort in Stubai Valley, so you're sure to ski over some history when you tackle the "Freaky Eleven" run. If you are able to attack the moguls with confidence, you won't be awarded a gold medal afterwards, but a diploma of Neustift Ski School—and a real sense of accomplishment at the end of the day!
4. Curling: What's with the sweeping?
Kitzbühel is home to Tirol's — and Austria's! — one and only indoor ice rink for curling. In this often underestimated Olympic event, two teams take turns sliding heavy, polished granite stones across the ice curling sheet towards the house, a circular target marked on the ice. When the stone touches the ice sheet, there's friction, which can slow down the stone and makes it curl away from its straight path to the house. Obviously, that friction is not always a good thing, but sweeping helps combat the problem. The sweeping motion raises the temperature of the ice, which diminishes the friction between the ice surface and the stone and keeps the stone moving in a straight line. Basically, the object of the game is to get your stones closer to the button than the other team gets theirs. Give it a try at the Indoor Ice Rink in Kitzbühel — and don't forget using your broom!
Austria's one and only indoor ice rink for curling is located in Kitzbühel. ©Kitzbühel Tourismus
5. Alpine Skiing: Follow the trails that have led downhill heroes to Olympic glory
Within twelve years of each other, Tirol's capital Innsbruck was able to host two Winter Olympics in both 1964 and 1976. In 1964, Innsbruck had its complications with an unseasonable lack of snowfall. And without artificial flakes, which weren't used on a large scale until the 1970s, the industrious Austrian army had to bring in 40,000 cubic meters of snow to form the Olympic skiing courses. Snow was trucked in from distant sites and then hauled up the slopes on wooden sleds where soldiers hand-packed the downhill course on Patscherkofel Mountain, now an Olympic legacy. Today, you can access the famed 3-kilometer long trail on which the 1964 and 1976 men's Olympic downhills were contested from the brand-new Patscherkofel Gondola. The gondola looks a bit different today. But the spectacular views of Innsbruck and Nordkette Mountain Range remain the same.
The Olympic Downhill Course on Patscherkofel Mountain. © Tirol Werbung/Carlos Blanchard
6. Ski Jumping: A vertiginous, jumper's-eye view down the Bergisel Ski Jump Ramp
Every time I see the exceptional, soaring, swooshing, sculpture-like ski jump towering high above Innsbruck, I ask myself how in the world anyone can be that crazy. By that, I mean shooting down a huge ramp on long skis, then taking off like a bird, flying a decent 130 meters or so in the air before landing on two feet, preferably without dying.
Needless to say, only professionals should attempt this feat (no, I wouldn't recommend to try out ski jumping to mere mortals). But visiting simply to venture to the top is still a thrill. Thus, I can strongly recommend a Bergisel Ski Jump Tour, where visitors will get an up-close and personal tour of the ramps that ski jumpers launch themselves from before flying over town (and over a cemetery). It's the very place to go for a vertiginous, jumper's-eye view down the 37 degree incline run. Yes, that's exactly what the jumpers see as they start to accelerate towards the end of the ramp. If you want to see what's next, go take a look at our immersive 360-degree video. If you dare.