A Day In The Snow: Skiing Ischgl
Winter has arrived in Tirol and Ischgl Ski Resort has just opened for the new ski season. Last week snow fell on in Ischgl, dumping some 30 centimeters of new snow. We have been there for one day to find out what the ski resort has to offer.
For the first Snow Report of the 2015-2016 winter season we've been to Ischgl for eight hours. Apart from snow conditions, we also checked the skiable terrain.
08:30am // Pardatschgratbahn Bottom Station
The lift line is short and the wait is minimal. We board the record-breaking gondola to ride through the mist of the clouds. Up there, we're welcomed by winter wonderland.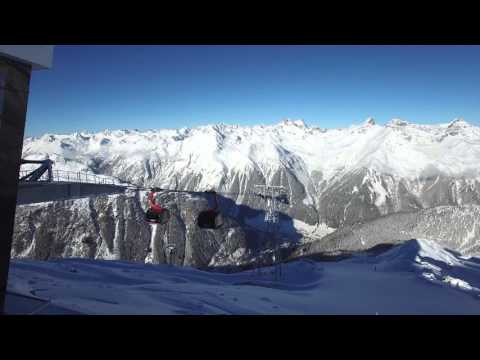 Pardatschgratbahn Gondola opened in the 2014-2015 winter season, greatly enhancing mountain access. Spanning the distance between Ischgl Village and the top at Pardatschgrat Mountain (elev. 2,600 m), the new 3S Gondola is a breathtaking 10-minute ride. It reportedly has the greatest height difference of any 3S lift system in the world. Equally impressive is the gondola's space-age design. Plus, the sleek on-mountain eatery at the top terminal is reminiscent of a Star Trek space station. If lift lines at Pardatschgratbahn are too long, nearby Fimbabahn provides another oomph to move the crowds from the base area to the heart of skiing.
09:30am // Pardatschgrat & Idjoch
One of the ski resort's top vantage spots is Pardatschgrat. Probably symbolizing the cosmopolitan allure of the ski resort, the signpost depicts distance and direction to locations around the world.
Up at Pardatschgrat, we were greeted with fresh powder and breathtaking views.
Pardatschgrat is where we met Martin and his friends from the Netherlands. We asked them how they like the view and why they opted for Ischgl to open the new ski season.
10:30am // Ski Trail No. 6 (of 81)
From Pardatschgrat, we ski Trail #6 to get right to the heart of the Ischgl Ski Resort, Idalp that is. This is the very place where each ski season is wrapped up with a bang, with live acts given by top global superstars such as Robbie Williams, Alicia Keys or Sportfreunde Stiller.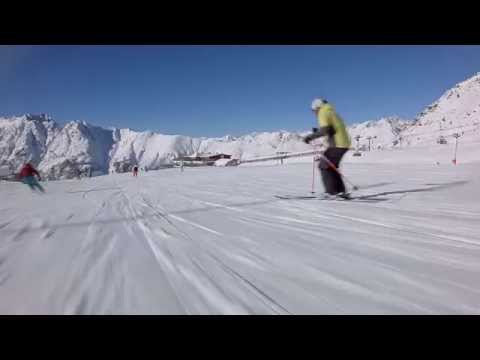 Another strongly recommended option is Trail #7 that winds down through Velilltal Valley from Pardatschgrat. This is probably the most scenic ski run in Tirol (and there are many contenders for a spot on that list). Don't miss out on gawping at the airy "Three-Thousanders", the summits of Bürkelkopf Peak and Vesulspitze Peak to the right and lofty Madlein Massif ahead.
11:30am // Idjoch
We hop on a chair of Idjoch Chair Lift for a taste of Switzerland: With the unique layout of the Silvretta Arena resort, you can ski over to the Swiss resort of Samnaun – giving skiers the rewarding opportunity to cross the border.
Idjoch offers stunning views of Swiss Samnaun Valley.
At Idjoch, we meet Steffi and Olive. They travelled all the way from Stuttgart, Germany to open the ski season in Ischgl. They tell us about snow conditions and the weather, one day after the season has been kicked-off.
12:30pm // Stop for Lunch at Videralp
We take a break from the slopes at Videralp, a tiny lodge with great food, a warm atmosphere and a great patio with breathtaking views.
Gemütliche Einkehr bei der Videralp.
Gemütliche Einkehr bei der Videralp.
Gemütliche Einkehr bei der Videralp.
More Ischgl Ski Resort dining recommendations: Höllboden Restaurant with its new Lounge at Höllboden is an excellent spot to stop. And the spectacular contemporary design of new Pardorama Restaurant, located at the top of Pardatschgratbahn Gondola, is awesome.
2:30pm // Trail No. 22, Palinkopf – Höllboden
Once replete and replenished, we get atop Palinkopf and enjoy cruising down Trail #22.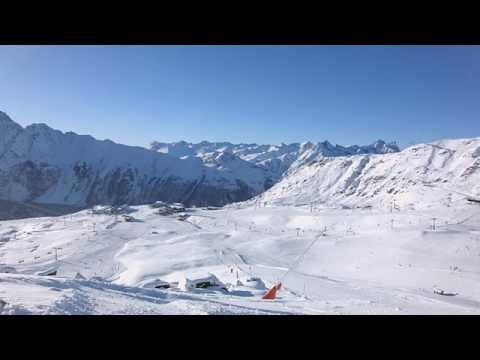 Expert skiers looking for a fresh challenge might try seriously steep Trail #14a with a 70-percent gradient. From the top, it looks intimidating and the whole run is really, really steep. Want to cross the border and ski over to Switzerland? The Duty Free Run along Trail #80a (Zeblaswiese) takes you to the Swiss resort of Samnaun for a coffee break or shopping spree.
3:30pm // Idalp and Top-to-Bottom Run
At Idalp we meet some crazy skiers who celebrate the ski opening in 80s retro clothing. We ski down to the valley and have a drink at the "Allegra", a cozy bar furnished in 50s American Diner style.
At the "Allegra" we talk to Bartender Mario. The bar turns quality and flavour up a notch and is renowned for mouth watering morsels like delicious pasta and steak dishes. The Bar is located at popular Yscla Hotel, which has one of Austria's youngest and talented award-winning celebrity chefs.
Talk with Bartender Mario at the "Allegra" in Ischgl.
A local staple for 22 years, the Allegra has a chill vibe and laid-back atmosphere. Decor inspired by a 1950s American Diner, the restaurant offers good times and great food.
4:30pm, or a little bit later… // Goodbye, Ischgl!
The bottom line: Last week snow fell on in the ski resort of Ischgl, dumping some 30 centimeters of new snow and temperatures remained chilly with 10 degrees Celsius below zero. This means that skiers and snowboarders were greeted with fresh powder – a wonderful surprise to those who came here for the ski opening. The new winter season was officially kicked-off in Ischgl one day after our visit with a live act by the legendary "The Beach Boys".
Pick up tips and get inspired to plan your vacation to Ischgl here: Silvretta Arena Ischgl.
Have got some more tips from in-the-know locals? Feel free to share your knowledge with the BlogTirol community.
Fotos: W9 Studios