10 Surprising Facts About "Silent Night! Holy Night!"
Località: Achenkirch ©
On Christmas Eve 1818, a song was born that would wing its way into the hearts of people throughout the world. Now translated into hundreds of languages, "Silent Night! Holy Night!" is sung by untold millions every December – but how did this particular tune come to achieve such popularity? Here are ten surprising (and some weird) facts about the world's most ubiquitous Christmas carol.
1. A "Tyrolean Folksong"?
Legend would have it that on Christmas Eve 1818 the organ in the little church of Oberndorf near Salzburg broke down, some say as a result of a hungry dormouse attacking the organ bellows. The quick witted organist and school teacher Franz Xaver Gruber set to music the words by Father Joseph Mohr – he penned a tune that could be accompanied easily on the guitar (which the librettist happened to be able to play). And the threat of a truly silent night was averted. However, Gruber was soon forgotten as the composer and Silent Night was known for some time thereafter as a "Tyrolean Folksong" as travelling bands of folksingers started to circulate it further afield. Thus, the simple carol began its journey around the world as a "genuine Tyrolean Folksong".
2. Myth and Truth
Another legend would have it that the "Ur-Rainers", the Rainer Family Singers from Tirol's Zillertal Valley, sang "Silent Night!" in a concert given to entertain Emperor Franz I of Austria and Tsar Alexander I of Russia in 1822. The emperors were amazed at the abilities of siblings Maria, Felix, Franz and Joseph Rainer and the Tsar even invited them to Russia.The story is often told, however, there is no historical evidence of the family singers performing "Silent Night!" on that occasion. Anyway, after that performance, the Rainer siblings left their home and toured through Europe to expose their unique sound as the 'Tyrolese Minstrels'. They were an international sensation, singing for the nobility of several countries. Their pure, natural sound was especially appreciated in London, where they were invited to sing for King George IV of England.
The Rainer Family Singers (the first generation) toured through Europe and were coveted guests on Windsor Castle and at Buckingham Palace in London. Photo Credit: Privatarchiv Martin Reiter ©
3. Marketing Campaign, Tirolese-Style
Moreover, "Silent Night!" was taken to a wider audience by another Tirolean family of singers, the Strassers from Laimach in Zillertal Valley. The Strassers were glove-makers who started singing Tirolean folksongs as a group in traditional costumes to attract customers to their stall at the Leipzig Christmas fair, skillfully pursuing both musical and commercial interests. According to the 'Leipziger Tageblatt', the Strassers sang the song for the first time in a concert in Leipzig in December 1832. They were subsequently invited to perform at Christmas services and concerts in the city, and for a few years in the early 1830s they devoted themselves to a singing career, travelling around Germany with "Silent Night!" as a popular part of their repertoire.
Excerpt from the 'Leipziger Tagblatt', December 15, 1832, Photo Credit: Tiroler Landesmuseum Bibliothek Ferdinandeum ©
4. Tirolean Pop Idol
The first generation of the Rainer Family Singers, the so-called "Ur-Rainers", had already been very successful as a travelling band. In order to connect to the success of this first generation, Ludwig Rainer had his new band cast professionally. Ultimately, his cousin Helene Rainer, Simon Holaus and Margarete Sprenger joined him on his tour which would become a truly global one.
The ocean crossing from Le Havre to New York took more than 30 days and life at sea was crooked, rough and eminently disagreeable (ten storms included).
5. The Long Road to New York
In 1839, "The Rainer Family" embarked on their America tour, which lasted until 1 tickets wer843. Ludwig Rainer originated from the famous "Ur-Rainers" and was only 18 years old at the time; his cousin Helene was 15. Their journey was more than an adventure, it was quite long and arduous: The ocean crossing from Le Havre to New York took more than 30 days and life at sea was crooked, rough and eminently disagreeable (ten storms included).
6. $1 for "The Rainer Family"
Having arrived in the United States of America, "The Rainer Family" started beating the drum for themselves: The first advertisement announcing a concert of the family singers appeared in the Morning Courier and New York Enquirer on November 25, 1839. Tickets were $1 per adult; a special ticket rate of $2 was available for men accompanied by two women and child
e 50 cents. Legend has it that a few weeks later "The Rainer Family" gave "Silent Night!" its American debut on Christmas Eve 1839 at the Alexander Hamilton Memorial near Trinity Church in New York City.
Ludwig Rainer from the second generation Rainers. He was only 18 years old, when he together with his cousin Helene Rainer, Simon Holaus and Margarete Sprenger sang "Silent Night" for the very first time in the United States on Christmas 1839 in New York. Photo Credit: Museum in der Widumspfiste Fügen ©
7. Being a Tirolean
As the tradition of 'Tyrolese Minstrels' was that tremendously successful, singers from Vienna, Styria and Germany's Bavaria tried to exploit the cliché by passing themselves off as Tyrolean national singers.
8. The Christmas Truce of WWI
Another story around which many legends have been built: The song's powerful message of heavenly peace has gained in emotional impact by becoming linked with the story of the 1914 Christmas Truce of WWI when fighting was brought to a temporary close on Christmas Eve by soldiers singing their native versions of "Silent Night" to one another across the front line. In many sectors, the truce lasted through Christmas night.
9. The Third Highest-Selling Single of all Time
From Hawaii to the Antarctic: Translated into over 350 languages and dialects, "Silent Night! Holy Night!" has crossed all borders and language barriers, conquering the hearts of people everywhere. In countries all round the world Christmas would not be Christmas without it. Released in 1935, Bing Crosby's version of "Silent Night!" sold over 30 million copies and is the third highest-selling single of all time.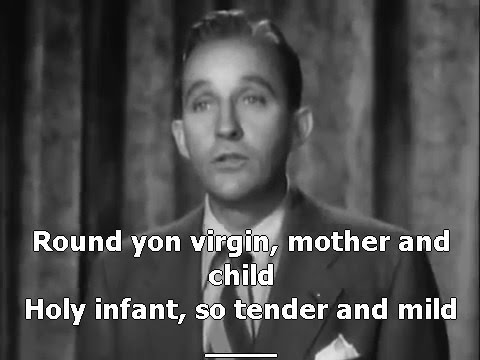 10. The Christmas Wonderland Craze
Located in Frankenmuth, a town with a population of 5000 in the U.S. state of Michigan, "Bronners Christmas Wonderland" is the world's largest Christmas store. "Bronner's Silent Night Memorial Chapel" is nestled on the southern tip of Bronner's beautifully landscaped grounds. It is a replica of the original chapel in Oberndorf/Salzburg, Austria, which marks the site where "Silent Night!" was first sung on Christmas Eve in 1818. Open 361 days of the year, "Bronner's Silent Night Memorial Chapel" brings the world's most famous Christmas carol to guests year round, 24/7. A huge draw for the town of Frankenmuth, Bronner's welcomes at least two million visitors every year – and Bronner's Online Store offers approximately 3,000 Christmas items for purchase, among them a Silent Night Chapel Replica Glass Ornament for $13.99.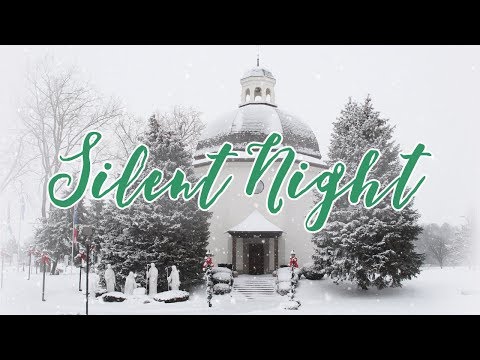 We Wish you a Merry Christmas!