Ed Sheeran's Music Video for "Perfect" – Filmed in Tirol
Ed Sheeran and Actress Zoey Deutch shooting on location at Hintertux Glacier (Photo Credit: Dan Curwin)
The clip for British singer-songwriter Ed Sheeran's sugar-sweet love song "Perfect" was shot on location in Tirol's Zillertal Valley in October. The video has everything you could want: snowy scenery, moments of friendship, and… an intriguing love story. And we have all the places where it was shot:
Trisanna Bridge
The video begins with Ed Sheeran travelling by a Railjet train of Austrian Federal Railways (ÖBB) across spectacular Trisanna Bridge on the Arlberg Railway Route. The snowy peak in the background, however, was added in the studio afterward ;).
Trisanna Bridge in summer (Photo Credit: Roland Siegele)
Tuxer Fernerhaus Lodge, Hintertux Glacier
Between stunning scenic visuals, we find Ed Sheeran getting off the Zillertal Train at the Mayrhofen Railroad Station and arriving at the Panorama Bar of Tuxer Fernerhaus Lodge. There, he sees a young woman he has presumably known for a while (played by American actress Zoey Deutch), who is all eyes on Ed until a group of her guy friends shows up.
Photo Credit: Hintertux Glacier
This is my team @bu66a, @mazagranphoto, ryan brown, I love you guys. Thanks for riding with me. I love what we make together. Not pictured are the amazing ladies on the team @honnabk @jennykoekoe @amberkoniniec…+ @klondovisuals and @johnlavinart. not sure why this shot was blurry in the last post. A post shared by Jason Koenig (@jkoephoto) on Nov 10, 2017 at 4:46am PST
Alpine Cabins at Sommerberg
The friends soon disappear, ceding the spotlight to the lovers. The couple dances in the snow and ends up in a romantic cabin together. The one featured in the video is located at Sommerberg. Unfortunately, the cabin is private property and is not available for rent.
A post shared by Zoey Deutch (@zoeydeutch) on Nov 9, 2017 at 8:05am PST
Quite a cool moment behind the scenes of Perfect shot by @jkoephoto, chekkkk it owt A post shared by Ed Sheeran (@teddysphotos) on Nov 9, 2017 at 2:54pm PST
Hohenhaus Tenne, Hintertux
If you want to party like Ed Sheeran, head to Hohenhaus Tenne in Hintertux. You will find this lively après ski hangout at the base of Hintertux Glacier Gondola. Joe's Pizzaeck, the pizza to-go counter where Ed and Zoey were picking up a pizza, is located at Hohenhaus Tenne as well ;).
Some epic dancing happening here. #perfect #bts A post shared by Jenny Koenig (@jennykoekoe) on Nov 10, 2017 at 6:29am PST
Hintertux Glacier Ski Resort
The sunset scene – including the snowy slow dance – was filmed at "Gefrorene Wand", literally the 'Frozen Wall' at an elevation of 3,250 meters. Moreover, the video shows ski lifts and slopes of Hintertux Glacier Ski Resort.
Video for Ed Sheeran's PERFECT is up on youtube now! @teddysphotos, thanks for having me out in Austria to shoot in snow during the summer and eat more shnitzel than I could ever imagine. I still love you, and snow, but I never want to look at shnitzel again. Glad we had this very private conversation. ⛄️ A post shared by Zoey Deutch (@zoeydeutch) on Nov 9, 2017 at 8:43am PST
Photo Credit: JungleProductions – Bezi Freinademetz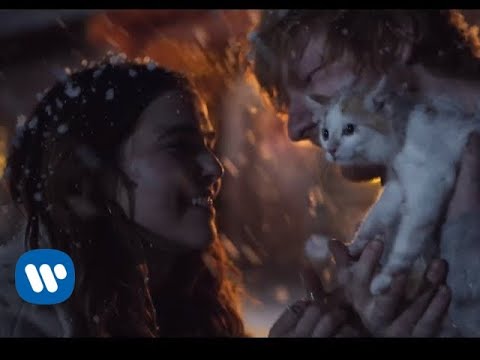 Ed Sheeran gives us the perfect Christmassy love story in his new music video. After all, nothing says Christmas like a kiss in the snow… Could the lovesick ballad become the new "Last Christmas"? Don't bet against it. Anyway, the trip shown in the clip has all the calling marks of a good ski holiday in Tirol. So, don't you want to travel to these gorgeous locations right now?