"Strauben": The Original Recipe to Try at Home
A wonderfully crispy dessert from Tirol that is fun to make at home: "Strauben"
"Strauben" are Tirol's answer to funnel cakes: A batter of flour, eggs and milk is poured through a funnel, fried to even brownness and sprinkled with powdered sugar – a wonderfully crispy dessert that is fun to make at home.
You can find a type of fried dough in nearly every cuisine and one of my favorites is "Strauben", which translates to "ruffles". The batter is poured through a funnel or pastry bag to form 'unruly' curls (hence the name) and fried to golden brownness in clarified butter. A staple dessert of Tirol, you can find "Strauben" nowadays at farmer's markets and festivals all across the country. In my opinion, "Strauben" are one of the world's best desserts – when made fresh from scratch of course. These fried pastries are fun to make at home too as you can get the hidden artist in you to come out and make fantastical swirls and curls of batter before it cooks into a solid shape in the heated butter. There's nothing better than a crunchy-tender freshly fried pastry dusted with powdered sugar to give you a warm fuzzy feeling! Are you still thinking about "Strauben" or enjoying them already?
Difficulty Level: Easy
Cooking Time: 15 minutes (without letting dough rest for 20 minutes)
Servings: 4
Ingredients
250 g flour
250 ml milk
1 pinch salt
1 packet vanilla sugar
2 cl fruit schnapps
3 eggs
Clarified butter for frying
Funnel or plastic bag
Instructions
Combine flour, milk, vanilla sugar and a pinch of salt in a bowl.
Whisk well until mixture forms into a smooth consistency. Let dough rest for about 20 minutes.
Add three eggs and stir constantly until dough becomes a smooth batter that can be poured into the heated butter (similar to pancake batter).
Add 2 cl fruit schnapps to the mixture.
In a large pot add enough clarified butter to come up the sides and heat to 170°.
Using a funnel, place your finger on the end of it and fill the funnel with batter until it comes about halfway up the funnel. Or, put the mix in a plastic bag and cut the corner.
Put the funnel above the heated clarified butter and swirl the mixture gently in concentric circles as the batter pours out. Fry until golden brown on both sides, three to five minutes. It's important to let oil come to 170° before each batch.
Strongly recommended: Leave for a couple of minutes to cook on one side and then flip it carefully with a spoon and fork or with two slotted spoons and brown on the other side.
Remove with a slotted spoon and drain on paper towels. Sprinkle with powdered sugar and feel free to serve with cranberry jam.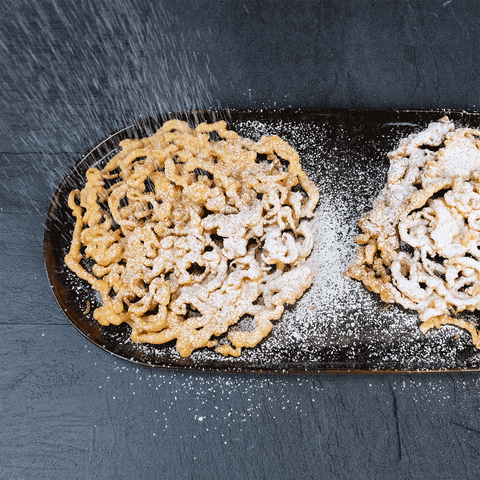 Enjoy!
Photos by Kathrin Koschitzki
Das könnte dich auch interessieren