A Day In The Snow: Skiing St. Anton – Comprehensive Ski Review
Heavy snowfall, stoked freeskiers and a place that shaped the history of modern skiing: Known worldwide as the 'Birthplace of Alpine Skiing', St. Anton, our destination of the week, packs some serious ski heritage. Our expert guide of the ski resort is Rosanna, 29, who grew up in St. Anton and knows the resort peak to pub to pillow. On our way, we meet a ski guide and a women's only freeskiing camp and explore the charming and vibrant village center of St. Anton am Arlberg.
Here's to our ski resort lowdown on St. Anton with all you need to know to get the most out of skiing here.
08:00am | St. Anton am Arlberg Railroad Station
We meet our guide Rosanna at the railroad station. Unique for a major ski resort, St. Anton is an Intercity and Railjet station where all important international express trains stop. With the railway station at its heart, St. Anton am Arlberg is easy to reach and, once there, small enough to navigate on foot—ski lifts and the pedestrianized main street are just a few steps away. Rosanna, our local expert, works in the social and charitable area – and she loves to travel. Today, she will show us her backyard, a ski resort that is acclaimed the world over and an eclectic village resort with cosmopolitan allure that has managed to retain all of its soul and heritage.
08:30am | The Snow Blower
If it snows in St. Anton, it usually dumps several feet of snow. Therefore, snow removal is a big issue here. Residents of all ages use "snow blowers" to clear their pathways and to quickly remove snow from their driveways. Just as this older gentleman who was born in 1927 and who also happens to be Rosanna's grandfather.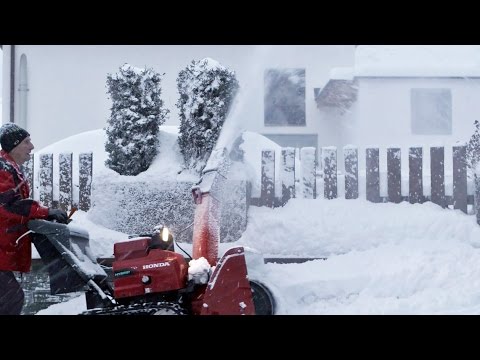 09:00am | Arlmont Hotel
Cutting-edge, minimalist design at Arlmont Hotel.
From high-end luxury and typical rustic mountain lodging to quaint condominium accommodations and hip and stylish boutique hotels, St. Anton offers quality lodging and accommodations for every taste and budget. Rosanna shows us her favourite hip design ski hotel in St. Anton, the Arlmont: "I think, this place is seriously cool and puts a modern and fresh spin on the typical rustic St. Anton experience. The Arlmont kicks it up a notch, combining an outstanding slopeside location next to Nasserein Gondola with exceptional guest service and amenities. I celebrated a friend's wedding here last summer and the staff was very dedicated and committed." Rosanna's second lodging recommendation is Der Waldhof, an inviting and modern hotel with excellent restaurant.
09:30am | SkiWest Sport Shop
Rosanna takes us to what is probably the smallest ski shop of Arlberg Area, SkiWest, owned and operated by her father. Precision ski tuning in the quaint ski cellar is his passion and he offers a special type of mountain expertise and a fine selection of the Tirol Shop Collection. If you're looking for the right gear, apparel, or accessories, St. Anton am Arlberg has it—the pedestrianised main street is lined with half a dozen sporting goods stores, such as Alber Sport, Intersport Arlberg, Sporthaus Jennewein, and Skisport Fauner.
Rosanna's father is an expert at precision ski tuning.
10:00am | Galzig Gondola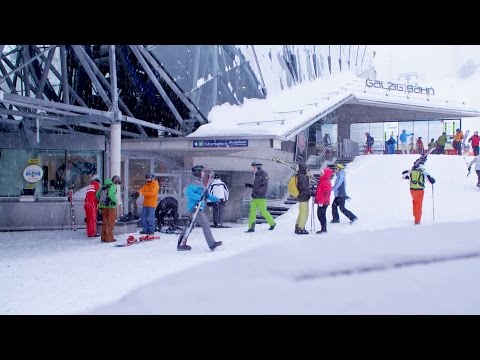 Since everything in St. Anton Village is a stone's throw from the slopes, the village center as well as the railroad station, we walk to the strikingly contemporary base of the gondola that takes skiers to the top of 2,184-meter Galzig Mountain. In 2006, the venerable Galzigbahn Cable Car built in 1937 was replaced by a jumbo gondola with a revolutionary ferris wheel design. A world first, the pioneering Galzig Gondola dispenses with the tedium of having to climb a staircase in order to reach the cabins. It has transformed mountain access and conveniently whisks us up to Galzig Mountain.
Contemporary and site-specific architecture: The Base of Galzig Gondola in St. Anton am Arlberg.
10:30am | Private Ski Guiding
#powderday in @stantonamarlberg ❄️❄️❄️ A post shared by Tirol (@visittirol) on Jan 15, 2016 at 12:14am PST
Powder-filled bowls, legendary chutes, steeps, cliffs and couloirs. With thousands of feet of vertical descent and some of the most reliable snow on the planet, Arlberg Area has all the important ingredients for a freeskiing paradise. Snow was falling heavily as we rode the gondola up to Galzig Mountain. To help uncover some of the very best, we checked in with Daniel Federspiel, a 30-year old professional backcountry ski guide and powder skiing specialist.
He tells us about current snow and ski conditions on the mountain, why he loves his job and why even experienced skiers are recommended to maximize their experience with a private St. Anton ski guide. "We saw more than one meter of snow during the last one and a half weeks and more snow is forecasted for next week," says Daniel who has turned his passion into his profession. And he tells us why it is strongly recommended to arrange a trip with one of Arlberg Area's many reputable guide services, whose members know the mountain better than they know the back of their hand. "Weather, snow, wind, light, etc. always change the 'sweet spots' in the mountains and without proper knowledge of these elements and the terrain, you cannot always be sure of finding the right places to match your ability. The run on Inner Rendl Mountain can be moguls one day and deep powder the next." Professional powder skiing specialists will expertly guide you to the best places of the day and make sure that you stay in your zone—as opposed to finding yourselves in areas too challenging, or too avalanche prone. Plus, they love to show you 'their mountains' with many secret pockets and powder stashes and share a story or two. More Information: Arlberg Ski Schools
11:00am | Galzig and Valluga
The ultimate aim of any skier coming to St. Anton is to take on the steep faces of the Valluga Mountain on a powder day. When conditions are deemed suitable, the 2,809-meter peak, the highest mountain of Arlberg Area, can be accessed by the tiny Valluga II lift, which inches its way up from the Valluga I cable car. Valluga II opens up some seriously extreme terrain. So serious in fact that you are not allowed to enter the gondola with skis or board unless you are accompanied by a qualified guide, explains Daniel. All we wanted to do was to ride the gondola to the top of Valluga to take some amazing pictures and then ride the gondola back down again.
Unfortunately, there was a snow storm on Galzig Mountain, and much to our despair, Daniel told us that Valluga Gondola was closed due to the weather. However, we were lucky: Three days earlier, Rosanna was up on the summit of Valluga with a friend and took some great photos with her camera phone. On blue-bird days, you'll soak in sweeping views of a seemingly infinite array of peaks spread out before you, as this picture shows:
View from Valluga on January 10, 2016. Photo: Rosanna Battisti
12:00 noon | Ski Trail No. 1
We follow Daniel down to Sennhütte along Trail No. 1. The snow is perfect, visibility is bad.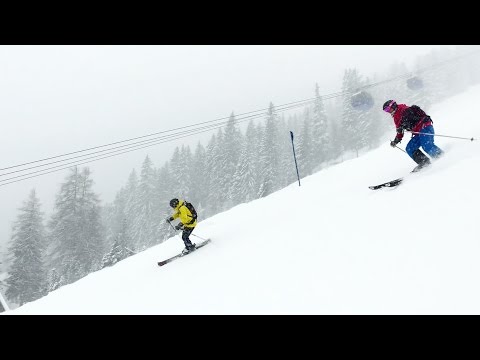 With clear blue skies, we would have loved to give Rosanna's recommendations a try, skiing to St. Christoph and Stuben am Arlberg. Her insider tip: "My best-loved run winds down from Schindlergrat to Rauz, a super long trail where you can ski really fast. With fresh snow, you can lay first tracks down onto the wide open trail on your way down. Once in Rauz do not hop on Valfagehrbahn chair lift but ski on to Stuben and Albona lifts—there's an awesome backcountry trail! An all-time favourite is Bachseite, a trail that offers heart racing steeps at (almost) all snow conditions."
Opened in 2015, St. Christoph boasts a brand-new, contemporary space for concerts and exhibitions atop Arlberg Pass, at an elevation of 1,800 meters, the Arlberg1800 Contemporary Art and Concert Hall. Rosanna's personal tip for skiing with a view: "Apart from Valluga, the best views are enjoyed at riding Schindlergratbahn chair lift and after schussing down from Ulmerhütte, where lofty Patteriol Mountain dominates the scene. What a view! "
12:30pm | Sennhütte
We say goodbye to Daniel and stop for lunch at Sennhütte, a typical Arlberg ski lodge where the welcome is always warm, the food is always great and the vibe always chill. "The friendly operators' home-away-from-home vibe is just one part of the reason that après sessions here can be so off-the-hook. This is one of those places where people stop in for a quick bite and end up staying for a few hours, drinking beer with the locals. From the delicious food to the sun-soaked slopeside patio to the dancing-on-tables-in-ski-boots-tradition, Sennhütte is all about good times spent together with good people," says Rosanna.
On mountain dining at St. Anton is as varied as the ski resort's terrain. Rosanna has another dining recommendation for us: "I really like the Arlberg Thaja, a cosy log cabin that has re-opened for 2015-2016. The atmosphere is both rustic and contemporary and the food is great."
Il ristorante Verwallstube sul Galzig
Designed for those who enjoy an elevated dining experience in the true sense of the word, Verwallstube Restaurant atop Galzig Mountain is Europe's highest-lying award-winning fine dining restaurant. The Restaurant at the local Ski & Heritage Museum, situated close to the village center, is another restaurant Rosanna recommends trying while you're in St. Anton.
Local Ski & Heritage Museum with Restaurant & Café in St. Anton am Arlberg.
From gourmet cuisine in a fine dining atmosphere to authentic Tirolean specialties to friendly places serving tapas, St. Anton has everything you could ask for in a dining experience.
2:00pm | Female Freeskiers
Women's Only Freeskiing Camp in St. Anton am Arlberg.
Arlberg is the place where locals meet up. At Sennhütte, Rosanna spots local freeskiing legend and ski guide Geli Häusl who runs women's only freeskiing camps. Her multi-day women's programs provide focused instruction in a small group (there's no more than six women per camp) for advanced skiers who want to get the wow factor into their skiing. The clinics focus on a whole mountain approach—how to read terrain, how to pick lines, and how to look at mountains in terms of backcountry safety. Slightly beneath Sennhütte, Geli teaches the group avalanche safety practices. Katharina from Munich, Germany, has joined the Women's Only Freeskiing Camp. She is frolicking in the virgin powder and plans to stay for two more days to get in a few more powder runs.
Geli teaches the group avalanche safety practices.
3:00pm | The Village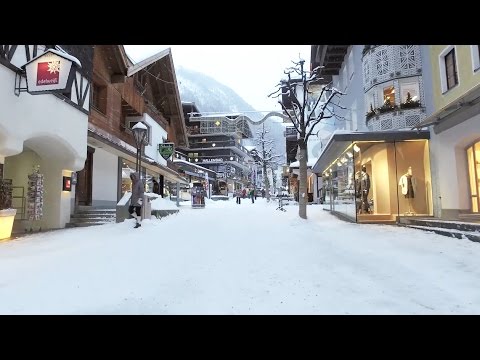 At St. Anton, the experience extends far beyond the mountain. It spills over into its pedestrianised main street: "Despite being a major tourist destination and despite recent developments, St. Anton's soul remains unchanged," says Rosanna. "The vibrant main street is lined with locally owned shops, hotels, bars and restaurants and throngs with skiers euphoric before or after an epic day of skiing or riding. There is an awesome local vibe of true diehard skiers here. This is where locals and long-time visitors from around the world meet up and swap stories of secret stashes. To me, St. Anton has the best skiing in the world, especially for those who want to revel in backcountry skiing adventures."
4:00pm | Après
At the base of the Galzig Gondola, you'll find the Base Camp, a lively après-ski hangout.
Apart from being the 'Birthplace of Alpine Skiing', St. Anton packs even more heritage – it's the spiritual home of après! Kicking back after a day on the slopes with food and drinks while still wearing ski gear is a time honoured tradition in ski culture here, for ski guides, ski instructors, freeskiers, locals and visitors alike. Rosanna's recommendations for those in the know—that is, those who know that every day should end with beers, tall tales, and dancing in ski boots: "A trip to St. Anton isn't complete without a slice at Krazy Kanguruh's and at the MooserWirt, two legendary bars, located virtually opposite each other, on either side of Ski trail No. 1 down to St. Anton. Grab a beer and watch skiers make their way down the last run of the day at the slopeside decks. Another favourite is Sennhütte! Sing along with live music at the sunny outdoor patio on Saturdays and join their table-dancing tradition." Suffice to say, all après bars at St. Anton know how to ensure a good time is had by all, so be prepared to party when you come here.
After some final photos, we say goodbye to Rosanna at Base Camp, located at the base of the Galzig Gondola – see you soon skiing in St. Anton!