Hostels in Tirol – accommodation for backpackers and low-budget travellers
Heritage-protected accommodation: Romedihof near Imst. (c) Romedihof Imst ©
Are you planning a backpacking trip through Tirol, or on the hunt for inexpensive accommodation for your holiday? Maybe you just prefer the more relaxed atmosphere of hostels? The following article contains a list of hostels for your next low-budget holiday in Tirol.
1. Mellow Mountain Hostel Ehrwald – sleep.explore.repeat
Formerly a classic Tirolean hotel in Ehrwald, the Mellow Mountain Hostel is now a modern and easy-going base for all those who want to explore the Zugspitze region. The hostel is especially ideal for active holidaymakers on a weekend or longer break. Hikes, bike tours and visits to bathing lakes can be started directly from the front door and the bus stop to the nearest ski area is only a hop, skip and a jump away. Owner Sebastian's vision was to create a home from home for all nature and sports lovers who don't feel the need to spend their vacation in a hotel. He and his team strive to offer holidays the way they like them themselves: authentic and relaxed. Come and see for yourself whether they have managed to achieve their aim!
Mellow Mountain Hostel in Ehrwald. (c) Ulli Mueller ©
Fact checklist
Rooms & Prices (as of June 2018):
Summer (winter): € 29 (€ 32) in a 4 & 6 bed room per person;
private double room: € 74 (80) per room,
3 bed room, € 96 (102) per room;
Breakfast: € 7.90 per person.
Amenities:
Living room, communal kitchen, winter garden conservatory, bar, bike, board and ski storage room with workshop and washing area, washing machine & dryer, sauna & steam bath, free Wi-Fi.
Contact:
Hauptstraße 85
6632 Ehrwald / Tirol
Tel +43.664.3869255
info@mellowmountain.at
www.mellowmountain.at
In the winter garden. (Photo: Mellow Mountain Hostel) ©
2. Romedihof Backpacker Hostel Imst – heritage-protected accommodation
The listed Romedihof was built in the 15th Century. A hostel can be found within its historic walls today, one that has retained all the original charm of an ancient farmstead and beauty both inside and out. Romedihof is the perfect place to stay if you are planning to visit the Inn Cycle Path, Camino de Santiago trail (Way of St. James) or Via Claudia Augusta Roman Road, as they are all only a few metres away from the farm. Opportunities for climbing, ski areas and a large selection of mountain tours can also be found in the close surrounding area.
The listed Romedihof. (c) Serge Bystro ©
Fact checklist
Rooms & Prices (as of June 2018):
in an 8-bed dorm Euro 21,- plus local tax
in a 6-bed dorm Euro 23,- plus local tax
in a 4-bed bedroom Euro 24,- plus local tax
in a 3-bed bedroom Euro 25,- plus local tax
in a 2-bed bedroom Euro 26,- plus local tax
incl. bed linen and bread delivery service for breakfast
Amenities:
Internet, kitchen, bathrooms, traditional wood-burner, wood for barbecue, bike and ski store, drying room
Contact:
Brennbichl 41
6463 Karrösten / Imst
Tel +43.664.2221210
info@romedihof.at
www.romedihof.at
Inside the Romedihof. (c) Romedihof ©
3. Dougs Mountain Getaway Fulpmes – everything the backpacker's heart desires
If you are looking for a relaxed, cosmopolitan atmosphere combined with accommodation nestled in the midst of the mountains, you will feel right at home at Dougs Mountain Getaway in Fulpmes. A place equipped with the kind of amenities that will make the heart of every globetrotter skip a beat: whirlpool, sauna, chill-out lounge, poker table, even a cinema and much more. What's more, a whole host of outdoor activities can be enjoyed in the Stubai Valley. Hostelworld awarded the hostel with the BEST HOSTEL IN AUSTRIA award in 2017.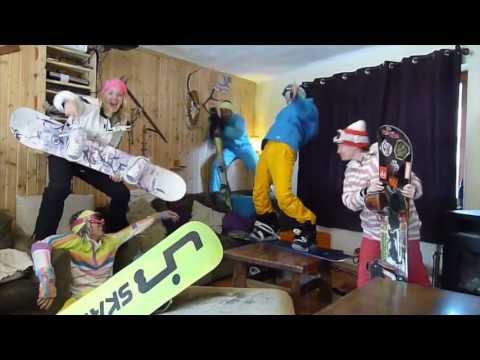 Fact checklist
Rooms & Prices (as of June 2018):
Capacity: max. 10 guests, minimum stay of 2 nights in summer, 7 nights in winter
5 double rooms or 10 single rooms
€ 35-45 per night at full capacity
Amenities:
Whirlpool, sauna, cinema, climbing area, kitchen, billiards, living room, garden with barbecue, board games and consoles, table tennis, Mystery Room
Contact:
Muhlwiese 12
AT-6166 Fulpmes
Tel +43.6509.686865
contact@dogsmountaingetaway.com
www.dougsmountaingetaway.com
4. Rutsche Hostel Wenns – comfortable hostel on the E5 hiking trail
Rutsche Hostel is located directly on the E5 European long-distance hiking trail, at the entrance to the Pitztal Valley. Long-distance hikers can get together in the evenings to share their experiences at the "Rutsche" bar next door. The hostel does not only welcome aspiring E5 hikers, of course. All those who are passing through, or want to spend a holiday in the Pitztal mountains, are in excellent hands at this well-equipped hostel.
Rutsche Hostel with pub right next door. ©
Fact checklist
Rooms (as of June 2018):
1 x 4-bed bedroom
2 x 3-bed bedrooms
3 x 2-bed bedrooms
1 x 6 bed suite with separate living area and bathroom
Amenities:
Kitchen with fridge, oven, dishwasher, common room with Flat TV, Wi-Fi, showers & WCs, Rutsche Pub
Contact:
Unterdorf 12
6473 Wenns
Tel +43.650.8644248 / +43.664.3417903 (mobile)
d.roeck@rutsche.at
www.rutsche-hostel.at
Common room in the hostel.
5. Nepomuk's Hostel – In the middle of Innsbruck's Old Town
Nepomuk's Bed & Breakfast Hostel is located in one of Innsbruck's oldest buildings. There is hardly a better location for a city trip to Tirol's capital, with sights like the Golden Roof or Maria-Theresien-Straße just around the corner. You can especially look forward to breakfast during your stay, which is served in Café Munding, Tirol's oldest café and pastry shop.
Fact checklist
Rooms & Prices (as of June 2018):
6-person room: € 24,-
2-person room: € 29,-
Amenities:
Luggage storage, kitchen, laundry service, showers and bed linen
Contact:
Kiebachgasse 16
A-6020 Innsbruck
Tel +43.512.584118 / Mobil +43.664.7879197
www.nepomuks.at
6. Hostel Marmota Innsbruck – with Ambras Castle just around the corner
Those looking for an inexpensive base from which to explore Innsbruck, should include Marmota-Hostel in their city trip planning. The hostel's quiet location allows you to relax after a full day in the charming city of Innsbruck and its picturesque surroundings, with Ambras Castle and its wonderful park grounds only a 500-metre walk away.
Hostel Marmota Innsbruck with Ambras Castle just around the corner. © Hostel Marmota Innsbruck
Enjoy the drinks with a view. © Hostel Marmota Innsbruck
Fact checklist
Amenities:
Common room, garden with barbecue, luggage, ski and snowboard storage, Wi-Fi, bar, terrace
Contact:
Tummelplatzweg 2
A-6020 Innsbruck
Tel +43.664.7975126
marmota@hostelmarmota.com
www.hostelmarmota.com
7. Weisses Rössl Leutasch – the zero star hotel
Weisse Rössl is the brainchild of Katherina and Roberto. After acquiring the dilapidated guesthouse in 2005, they painstakingly restored the Weisses Roessl to its former glory. The Weisse Rössl has now been given a whole new lease on life and is your home from home in Leutasch. The motto: "The house itself has zero stars. Our guests are the ones that have five star quality."
Multi-bed rooms at the Weissen Rössl
Fact checklist
Rooms & Prices (as of June 2018):
Double and triple rooms, two small fully furnished apartments
from € 25 per person (based on 2 persons sharing a double room) including breakfast
Contact:
Gasse 166
A-6105 Leutasch
Tel +43.650.9277941
weisses-roessl@live.at
www.null-stern-hotel.at
8. Snow Bunnys Back Packer Hostel – preisbewusster Kitzbühel-Urlaub
Are you looking for a great value for money summer or winter holiday in Kitzbühel? Then look no further than Snowbunnys Hostel. The Backpacker Hostel is located in the centre of Kitzbühel, only five minutes from the Hahnenkamm ski lift. With its practical facilities, the hostel is ideal for active holidaymakers who want to take full advantage of the hiking, mountain bike and skiing opportunities Kitzbühel has to offer.
Fact checlist
Rooms & Prices (as of June 2018):
Summer (winter): dormitories for 4 persons € 27.20 (38.20), for 6 persons 24.20 (35.20)
Twin room € 66.40 (€ 96.40)
Double room € 66.40 (€ 96.40)
Amenities:
Free breakfast, free tea & coffee, Wi-Fi, barbecue, communal living area with TV, shared kitchen, garden, bicycle, ski and snowboard storage, washing machine/dryer
Contact:
Bichlstraße 30
A-6370 Kitzbühel
Tel +43.67.67940233
hostel@snowbunnys.co.uk
www.snowbunnys.com
9. Alpenhostel Austria Pfunds – affordable accommodation at the three-country border
Alpenhostel Austria in Pfunds is also home to a club and bowling alley. Moreover, you will find a huge range of outdoor activities at the three-country border triangle between Austria, Italy and Switzerland. Located between Nauders and Serfaus-Fiss-Ladis, the hostel is the perfect base for your excursions!
Fact checklist
Rooms & Prices (as of June 2018):
1-2 nights (from 3 nights): single room € 35 (€ 30)
Twin room € 27 (€ 25)
Multi-bed room € 24.50 (22.50)
Amenities:
Dining & event rooms, billiards, table football, disco, bowling alleys, small wellness area, ski room, volleyball & basketball court
Contact:
Stuben 293
A-6542 Pfunds
Tel +43.5474.5480
info@jugendhotels-pfunds.at
www.alpenhostel.at
10. Go Ride Basecamp Mountain Hostel – accommodation for early birds
The Basecamp is located at 1,250 metres above sea level in a hamlet full of mountain lodges above the winter sports village of See in the Paznauntal Valley. The breakfast room of the over 200-year-old mountain lodge is often open early, especially in winter, because the hostel's location is ideal for catching the first gondola to the slopes after enjoying a nourishing breakfast.
Basecamp above the village of See.
Fact checklist
Rooms & Prices (as of June 2018):
Summer (without board, min. 3 nights, incl. lift pass): € 20 per person, double room € 25 per person
Winter: 1-2 nights: € 30, from 3 nights: € 25; with breakfast € 35, in a double room + € 10 per person
Amenities:
Communal kitchen, living room with TV, music system and games, sauna, workshop and drying room, Wi-Fi
Contact:
Rauth 54
A-6553 See
Tel +43.670.6066526 / +49.1575.9097755
info@freeridetirol.com
www.freeridetirol.com
Multi-bed rooms at the Basecamp.
11. Hostel Alpking in Ellmau- at the Wilder Kaiser Mountain Range
Alpking Hostel in Ellmau is an inexpensive, centrally located starting point for exploring the region surrounding the Wilder Kaiser. Whether in winter for skiing at the SkiWelt ski area or for a summer holiday, the hostel offers everything you need for a simple holiday in the mountains.
Hostel Alpking in Ellmau.
Fact checklist
Rooms & Prices (as of June 2018):
Summer: Double room € 28, twin room € 28, 4-bed room € 23, 6-bed room € 23
Winter ( incl. Breakfast): Double room € 35-42, twin room € 33-40, 4-bed room € 27-30, 6-bed room € 25-30
Amenities:
Communal kitchen, laundry, drying room, lounge with pool table and TV, terrace, table tennis
Contact:
Dorf 44
A-6352 Ellmau
Tel +43.650.3721053
office@alpking.com
www.alpking.com
12. Jack's Lake & Mountain Hostel in Kitzbühel – Premium Hostel at Lake Schwarzsee
JLM Hostel at Lake Schwarzsee has targeted the premium sector of the hostel market – and you can expect comfort and convenient amenities at fair prices accordingly. The hostel offers quiet holidays amidst the natural landscapes of the Kitzbühel Alps. Opportunities offered on site include ski, bike and Segway rental, all of which add to your rich holiday experience.
Jack's Lake und Mountain Hostel
Fact checklist
Amenities:
Ski cellar, laundry facilities (extra charge), Wi-Fi, common room with TV, kitchen, ski & bike rental, pool, terrace, barbecue area
Contact:
Am See 14c
A-6370 Kitzbühel
Tel +43.664.9328559
holiday@JLM-Hostel.at
www.JLM-HOstel.at