Sledding & Tobogganing Safety Tips – Learn How to Steer and Brake
Updated on 15.02.2021 in
Sports
Ort: Sellrain
Tobogganing is fun and easy just so long as you have the right skills to keep your sled under control. Andreas, who runs the
Rauthhütte
mountain hut in Leutasch, showed our intrepid reporter Christine how to enjoy this traditional winter sport. His quaint hut, which has its own toboggan run, provides a warm welcome to sledders, winter walkers and ski touring enthusiasts in winter.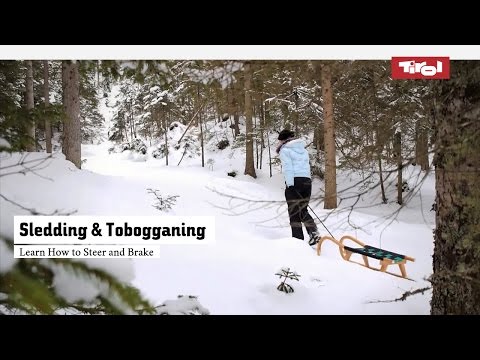 The Right Kind of Sled
A cord or rope is important as it gives you more control. You can use it to pull the sled up to perform an emergency stop. It also gives you something to hold onto if you fall so that your sled doesn't whizz off down the mountain without you. The metal runners should be bent up at the back for extra braking power.
Using the right equipment is essential for a fun and enjoyable tobogganing experience.
How to Brake
To slow down or stop on flat terrain, put both feet out into the snow. In steep terrain we recommend sitting towards the back of the sled, putting both feet flat on the ground and holding on tight to the front of the toboggan. If you need to brake at high speed, simply pull the front of the toboggan up into the air. The more you pull, the more you brake.
To brake, press both feet into the snow next to the skids.
How to Steer
Steer the toboggan with with your feet. To steer to the left, put your left foot out into the snow. To steer to the right, put your right foot out into the snow. Simple!
Perfect cornering.
Dressing Properly
Waterproof snow boots with good grip
Insulated trousers and jacket
Mittens or gloves
Buff or scarf
Helmet and goggles
Important Accessories
Small rucksack
Thermos flask with hot drink to keep you warm
Headlamp (when tobogganing in the dark)
Map
First aid kit
Tirol has the perfect toboggan run for all ages and abilities.
Toboggan Runs in Tirol
Tirol is home to a wide range of toboggan runs. The region is home to over 750 kilometres of well-maintained sleeding trails suitable for everyone from families to experts. Many of them are also floodlit in the evening. Click here to check out Tirol's over 80 toboggan runs.
Rauthhütte toboggan run
To get to Rauthhütte toboggan run you have to walk around 1.5 hours up the mountain. Andreas and his family will welcome you to Rauthhütte, which is the perfect place to enjoy mouthwatering local food. Dogs are also welcome. Then it's time to hop on board and whizz back down the way you came. The upper part of this 3km run is suitable for experienced tobogganers only; beginners and families with children should walk this section.
Das könnte dich auch interessieren