"Apfelradln": Enjoy the Taste of Tirol at Home
Updated on 06.04.2021 in
Food & Drink
, Photos: Kathrin Koschitzki
Apples, flour, eggs and milk. That's all you need to make "Apfelradln", one of the most popular sweet treats in Tirol. Mix them all together and pop them in the pan with a little butter for a few minutes et voilà. Check out the recipe below for what we think is probably the best way to eat fruit.
Tirol and its people are known for being straight forward and to the point. This simple recipe is an expression of that attitude. Before the apples ripen in autumn, fall to the ground and roll all the way down to the bottom of the mountain, they are picked by hand, cut into slices and dipped in batter. It is so simple yet so delicious. Garnish with a little sugar and cinnamon, that's it! Children in Tirol grow up loving this sweet treat. "Apfelradln" taste best made with apples from Tirol, of course, but you are welcome to use whatever you've got wherever you live.
Difficulty level: easy
Preparation time: 15 minutes
Portions: 4
Ingredients for "Apfelradln"
120g flour
Salt
2 eggs
1/8 l milk
1 tablespoon of rum (optional)
1 tablespoon of sugar
4 apples
Clarified butter or plant-based margarine for the pan
Sugar (and cinnamon, if you like) to sprinkle on top
How to make it
Mix the flour, eggs, milk and sugar in a bowl.
Add a pinch of salt. If you want, add a little rum to the mixture.
Peel the apples. Depending on the size, you will need three or four to make four portions.
Cut the apples into slices around two centimetres thick.
Use a cookie cutter or something similar to remove the core of the apple. Then heat the clarified butter in the pan.
Dip the apple rings in the mixture using a fork and then place them straight into the pan.
As soon as one side is golden brown, turn the apple rings over.
Place onto a plate and sprinkle sugar and/or cinnamon over the top.
Tip! You can make your own sugar-and-cinnamon mix with 10 tablespoons of sugar for every 1 tablespoon of ground cinnamon.
Enjoy!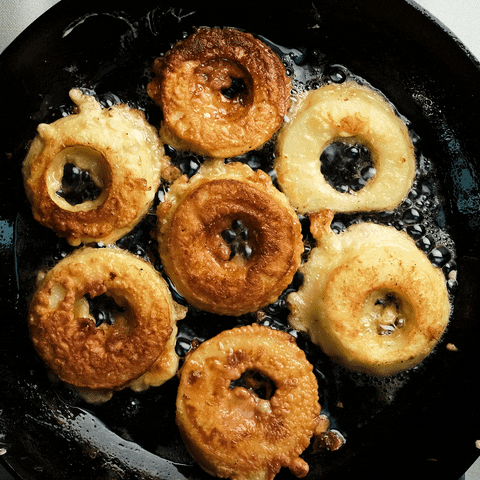 You might also be interested in this