What exactly is an Alpine Pasture Hut?
Dramatic Alpine terrains comprised of soaring mountain peaks, crisp air, stunning views and quaint Alpine pasture huts with grazing cattle are key features of Tirol's breathtaking landscapes. You cannot avoid Alpine pasture huts in our mountains — but what exactly is an Alpine pasture hut?
Two more switchbacks on the logging road to go. As you continue to ascend, the forest opens and you enter the wide open world of Alpine pastures, with grazing cows and a quaint cabin towered by lofty peaks. Just the right place to take a break and gather new strength over hearty delicacies: Most Alpine pasture huts throughout Tirol welcome hungry trekkers, making them most rewarding destinations for delightful Alpine pasture walks. However, these places are much more than mere on-mountain eateries. The German word Alp or Alm (meaning "seasonal mountain pasture"), is originally identical to the name of the Alps (German Alpen) itself, probably a pre-Roman term for "mountain". Alpine transhumance is the seasonal droving of grazing livestock between the valleys in winter and the high mountain pastures in summer as practiced in many places throughout Tirol.
Seasonal grazing involves taking livestock into the high country in summer to graze on the native grasses and herbs. Historic huts and other structures associated with grazing are important elements of the cultural heritage values of the mountainous landscape in Tirol. To qualify for the premium for Alpine livestock keeping, cattle must be grazed in the high country for at least 60 continuous days.
The Alpine pastures are divided into cow and cattle grazing, calves grazing, sheep grazing, horse grazing or mixed grazing.
Cow and cattle grazing pastures are subdivided into milking pasture huts and dairy pasture huts. On milking pasture huts, the cows are milked and the fresh milk is then transported down to the valley for further processing at dairies. Milk from cows on dairy huts is usually made into local cheese specialties by experienced Alpine dairywomen and men, handmade using traditional methods and tools. Herdswomen and men tend the livestock; in most cases, dairymen and herdsmen are working as milkers, too, as the workload is heavy high up on the mountain pastures and personnel is scarce. Many Alpine pastures couldn't do without volunteer programs, including tasks such as invasive tree and shrub removal of dwarf pine stands to the benefit of a rich variety of wildlife and plant life.
Tirol has over 2,000 Alpine pasture huts where farmers take care of cattle.
There are different organizational structures at Tirol's Alpine pasture huts. In some places, which are privately owned, cattle are taken care of by local farmer families who move to higher places during the warm summer months. In others, this job is for herdsmen who are employees of the cooperative owning the pastures. Some pastures are in the possession of various owners while others are in the possession of local communities. Farmers wanting their animals taken into the high pastures in summer have to pay an Alpine livestock-keeping fee. The benefits of the domestic stock's summer sojourn are manifold: It gives the lower pastures in the valley a rest period, there's no need to feed the animals during the Alpine grazing season and cattle are free ranging and selectively graze most tall herbs, grasses and shrubs, making the Alpine pastures a very healthy environment for livestock. As the elevation of the grassland increases, the mixture of plants that make up the native grasses also increases. Near or above the treeline in the Alps, the pastureland has a very rich collection of 60 to 70 different herbs growing alongside the grass per square meter, which is itself of a much different character than the grass lower in the valleys (where only seven different herbs grow per square meter).
Falbesoner Ochsenalm in Stubai Valley is one of Tirol's 2,000 Alpine pasture huts where farmers take care of cattle: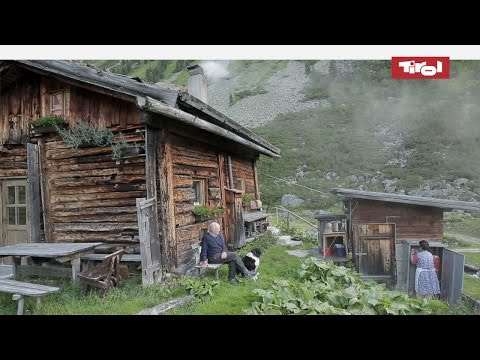 —
Find Tirols best Alpine Hikes at www.tyrol.com