Innsbruck Airport: Not Your Average Landing.
Passengers flying in to Innsbruck (IATA: INN) are fortunate. They will enjoy the most dramatic approach to any airport in Europe, as the aircraft descends through a deep mountain valley. We talked to three people who told us why Innsbruck is their fav airport in the world to fly in/out of…
Coming back home to Tirol is always special. Flying into Innsbruck, however, is a truly special treat. No matter whether I'm 'only' returning from the Austrian capital Vienna or from an overseas trip – every time the gently rolling foothills of the Alps suddenly give way to jagged Alpine peaks, with snowcapped mountains rising straight up in all directions, my heart skips a beat. The awe-inspiring aerial views of the stunning peaks are truly astounding. I appreciate them as much as the moment at which the aircraft touches ground while landing. Sometimes, it feels like more of a controlled emergency descent than your average landing. Notably in Foehn conditions, this typical Innsbruck wind that blows in across Inntal Valley and creates turbulence …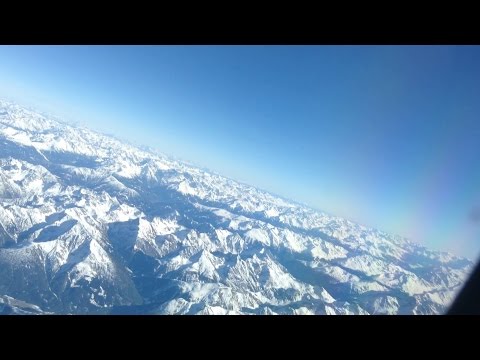 Flying into Innsbruck is an experience in itself, with the airport nestled deep inside the valley, mountains rising on either side. It's hard to explain my feelings, thus I have asked three people who frequently fly into Innsbruck to tell me what they think about it.
Kai Diekmann

is a German journalist, longtime editor in chief of Bild tabloid, founder of StoryMachine and Zukunftsfonds. He travels a lot and is a frequent flyer. He recently flew in to Innsbruck again:
As a frequent traveller and flyer, what is it that makes the approach into Innsbruck so special?
This wasn't my first time flying into Innsbruck – I really like this place and I have visited it on various occasions, for ski trips in Ischgl for example. To be whisked by the snow-capped mountains is truly an unforgettable experience, it's spectacular every time anew. Approaching this unique valley location with Inn River in the shadow of towering mountains on all sides is truly unique in Europe. However, I think that Innsbruck is as well one of the most spectacular places to fly out of. With the mountain vistas coming into view as soon as the planes takes off …
What is your most memorable experience while approaching Innsbruck by plane?
While we were on a ski vacation in Ischgl in 2016, I was invited to interview then French President François Hollande at Élysée Palace. I had to get to Paris—and return to Ischgl—as soon as possible. I drove to the Innsbruck Airport with my two sons, where we boarded a plane to Paris. Following my interview, we flew back into Tirol. This day it was all about getting from the slopes to the Champs-Élysées and back. It was a special experience to take off and land into the middle of these majestic mountains with my children.
Wauw ??#poedersneeuw #windowseat #oosterijk?? A post shared by Marcus Roelofs (@marcusroelofs) on Jan 2, 2018 at 11:42pm PST
Two rows of mountains to the left and right, with the Inn River in between, which crosses the country from west to east.
Guess one could say winter is here… ———————————————– #tirol #winter #flugsportzentrumtirol #aquila #a211 #lowi #innsbruck #flying #mountains #austria #visittirol #nature #clouds #aviation #sky #pilotsview #instaviation #instaaviation #love #instagood #instafun #happy #beautiful #fun #loveflying A post shared by @ the_flight_times on Dec 2, 2017 at 1:18am PST
Barbara Maria Haid
is a Tirol native who has found her second home in Asia more than ten years ago.
You were born in Tirol but have been living in Asia for many years. How does it feel to return to the mountains after a 12-hour flight?
There's nothing quite like flying into Innsbruck. The awesome beauty of the mountains just leaves me baffled every time I approach Innsbruck. Seeing the lofty peaks rising to the sky feels like coming home. It's that moment I am bursting with joyful anticipation. I can't wait to see my family. There simply is no place like home.
What is your most memorable experience while approaching Innsbruck by plane?
Well, I have a worst turbulence experience. I once got stuck in a Tirol Foehn storm that generated its fair share of turbulence. We were approaching the airport and it was really bumpy and scary. I had the jitters and thought, well, finally we are touching ground now. Yet it was only the beginning. The plane went down, and when it almost touched the ground, it shook hard and the pilot accelerated again. The plane climbed vertically in the air and we were pushed into our seats, not knowing what was happening. Thanks be to God, we landed safely at the second attempt. Flying into Innsbruck can be an interesting experience indeed! I was so happy to be on the ground that I almost kissed it when we landed …
As you have approached Innsbruck by plane so many times – are you getting used to it or do you still appreciate the experience?
Every time I land there, it enthuses me more, I'd say. Surrounded by the stunning peaks, the views as one lands at Innsbruck Airport are truly astounding. And they are always different, depending on the weather, on the season and on the time of flying.
Which way do you like to view the mountains more – from below or from above?
I like both. Unfortunately, I don't get to nab a peak that often anymore thus nowadays I watch the mountainous majesty from below, standing there in awe. On my way back to Asia, I always bid my farewell to the lofty peaks – this has become a beloved ritual for me. It somehow comforts me and makes leaving my home country and my loved ones easier.
The answer to the question why we Tyrolean people love and are proud of our country ? ———————————————– #tirol #flugsportzentrumtirol #da40 #oetztal #winter #winterishere #innsbruck #austria #visittirol #nature #diamond #flying #mountains #mountain #skiing #clouds #sky #pilotsview #aviation #instaviation #instaaviation #love #instagood #instafun #happy #beautiful #fun #loveflying A post shared by @ the_flight_times on Nov 24, 2017 at 1:17pm PST
Michael Margreiter

is a Tirolean pilot with Austrian Airways and Embraer Captain
How long have you been flying into Innsbruck?
As an aircraft's captain, I have been flying into Innsbruck Airport for 21 years.
Do you consider the approach into Innsbruck as something special? And if yes, why?
The approach into Innsbruck is technically very difficult and special, because the airport is surrounded by Alpine peaks and the descent is steep. To me, it's even more special as it means coming home.
What is more difficult in Innsbruck – take-off or landing?
Both require concentration and challenging visual manoeuvring within the valley, even if the weather is fine. The topography requires a precision approach and take-off, made harder by low-level wind shear (like the infamous Foehn), which almost comes as standard.
Despite the demanding approach into Innsbruck Airport – do you still have an eye for the beauty of the mountains?
While the passengers may be thinking "beautiful mountains, lovely villages, ooh, look, we've landed", the pilot is facing what we call challenging visual manoeuvring associated with high winds and the mountainous terrain. Nevertheless, I enjoy the aerial views of our gorgeous mountain scenery, too.
Is it true that only experienced pilots who have undergone special training are deployed on flights into Innsbruck Airport?
Yes, that's true. As a captain, before being checked out into this airport, one of the requirements is to sit on the jump seat, the seat behind the captain and first officer. This is after you get simulator training and before you're flying in there yourself with another training captain.
What do you think/feel if Innsbruck Airport appears on your duty roster?
I always love flying into Innsbruck. It doesn't matter if it's early in the morning, when the sun rises behind the peaks or in the evening, with the twinkling city lights of Innsbruck below – it's a wonderful place to operate into.
What is your preferred aerial view – Innsbruck in the summer or in the winter?
Definitely in wintertime. On a bright blue day with that snow all around you and the ski runs below… However, every season has its special charm.
The approach into Innsbruck Airport is absolutely spectacular in summer, too! Don't you think so? Thanks to my colleague Manuela Mörtenbäck for sharing this amazing picture ;-)
Have you ever been flying into Innsbruck? We'd love to hear your experience!