Tirol's Most Beautiful Mountain Lakes
To help you cool down this summer, I have put together a list of 12 perfectly chill places to swim around in with a little help from my friends and colleagues. So take a deep, deep breath, and swim up to our mountain swimming spots power rankings:
1. Zireinersee Lake
Repeatedly named, Zireinersee Lake at Sonnwendjoch Col in Kramsach made it to the top of the list. A hidden gem for those willing to throw on hiking shoes—and I will do that this summer!
View this post on Instagram Oben schmeckt es besser als unten. A post shared by Jens Franke (@jensfranke) on Sep 12, 2015 at 10:23am PDT
2. Drachensee Lake
Martina's favourite lake is Drachensee Lake next to Coburger Hut. Her suggestion: Ride your mountain bike from Leutasch to Seebensee Lake, which will take about 1.5 hours, and continue riding for another 45 minutes to get to Coburger Hut—from where there are uninterrupted views of Drachensee Lake.
View this post on Instagram Mirror mirror on the wall, which is the most beautiful lake of them all? It's ? lake ? . . . #mountainlove #outdoors #wanderlust #hiking #nature #whataview #neverstopexploring #wandern #bergliebe #naturelovers #naturelove #getoutdoors #bergwelten #mountainstories #bergsteigen #hikingadventures #bealpine #mountains #hikinggirl #munichandthemountains #bergwandern #whataview #visitaustria #heimatliebe #drachensee #bergemachenmichglücklich #ig_austria #coburgerhütte #earthpics A post shared by CRISTINA MARTENS (@miezi_muc) on Aug 27, 2019 at 9:36am PDT
Seebensee Lake and Zugspitze Peak glowing in the background.
Stunning view of Drachensee Lake to the left, Seebensee Lake to the right, and Sonnenspitze Peak looming between them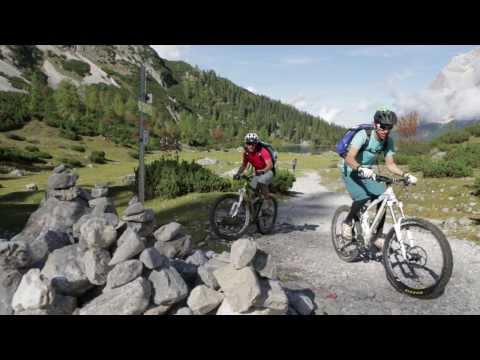 3. Wildsee Lake
Lying at the foot of Henne and Wildseeloder Mountains, two iconic peaks in the backyard of Fieberbrunn, this mountain lake is the perfect destination for a Sunday outing thinks Birgit. By the way, this is one of the most instagrammable places in Tirol as proven by the pictures of @andreadabene and @alexstrohl!
View this post on Instagram After an hour and a half of hiking in the fog, @alexstrohl and I spent the night in that cabin and woke up with a pretty good view! A post shared by Andrea Dabene (@andreadabene) on Aug 20, 2015 at 9:36pm PDT
View this post on Instagram Early morning in the Austrian Alps, waking up from one of the best sleeps we had this summer.. I've written a piece on the issue 01 of the Wilderness Collective print magazine about our summer adventures through Europe. For more info check out @wilderness A post shared by Alex Strohl (@alexstrohl) on Jan 27, 2016 at 9:23pm PST
4. Wildalmsee Lake(s)
Recommended by Michael: On your climb atop Schafsiedel Peak in Kelchsau you will be rewarded with ridiculously beautiful scenery, but this series of three turquoise-hued lakes tucked into the high country is the best. When the sun runs hot, there's nothing wrong with finding your mountain equilibrium with a dip in these aquatic gems. It's going to be a quick plunge, but if you are up for the thrill, you'll earn the chill ;-)
View this post on Instagram Blick auf die Aleitenspitze, Schafsiedel und die Wildalmseen oberhalb der Bamberger Hütte. . . #vonOben #kitzbueheleralpen #visitaustria?? #wildalmsee #bambergerhütte #tirol #hiking #dronegram #wanderlust #mountains #mountainlovers #wonderfulnature #epicview #alps #shotondji #natgeo #roamthemountains #hopfgarten #brixental #travel A post shared by vonOben.tv (@vonoben.tv) on Sep 26, 2019 at 3:15am PDT
En route to Schafsiedel Peak, Photo Credit: Kitzbüheler Alpen/Norbert Eisele-Hein ©
5. Brechsee Lake
Providing infinite opportunities for wow moments, Brechsee Lake in Pitztal Valley is the favourite mountain lake of Tanja.
View this post on Instagram Enjoy the summer in the mountains ?⛰ . . . . #tirol#pitztal#söllberg#brechsee#hiking#hotsummerdays#mountains#picoftheday A post shared by HotelWiese&WellnessHüttendorf (@hotelwieseundwellness) on Jun 25, 2020 at 7:40am PDT
View this post on Instagram Brechsee – 2145m . . . #awesome_photographers #brechsee #capture #endlessgallery #exceptional_pictures #exklusive_shot #exploremore #fabulousshot #freedome #hiking #hikinglove #igaustria #igtirol #lake #moment #mountainlake #mountainphotography #mountains #mountainview #passion #photoofday #photos #summertimes #tirol #tyrol #whataday #sony #sonyalpha #sonyalpha6000 #sonyphotography A post shared by F A B I A N E I T E R (@fabian_eiter) on Jun 25, 2020 at 11:32pm PDT
6. Salfeinssee Lake
One of Tirol's innumerable photo-worthy locales: The surrounding Kalkkögel Mountains provide a dramatic backdrop to the crystal waters of Salfeinssee Lake. Thank You Christina for sharing this one!
Salfeinsee Lake and in the background the Kalkögel mountains. ©Innsbruck Tourismus / Markus Mair
7. Steinsee Lake
One of Michael's favourites (and one that has been on my bucket list for long) is Steinsee Lake in the Lechtal Alps. The ultimate rewards come to those who have enough strength to explore the lake after the ascent to Steinsee Hut, which is accessed from Zams. To reach the lake, you'll huff and puff through another 160 meters of elevation from the hut; but the scenic rewards in return are far from little—they are remote and breathtakingly beautiful!
View this post on Instagram A post shared by Ole Schönburg (@oleschoenburg) on Aug 10, 2015 at 10:44am PDT
8. Rinnensee Lake
Rinnensee is a small freshwater lake located above Franz-Senn Hut in Stubai Valley. Looks better in real life than on the pictures, swears Corinna.
View this post on Instagram Finding paradise wherever I go ????? . . #mountainlove #mountains #mountaingirl #hikinggirl #hikingtheglobe #climbinggirl #outdooradventures #getmovin #feelthealps #feelaustria #visitirol #stubaital #tirol #austria #rinnensee #rinnenspitze #augenblickberg #steigauf #naturelover #natureisourplayground #awesome #landscape #mountainlake #beautifulplaces #wanderlust #bergverliebt #gipfelstürmer #photooftheday #ourplanetourhome #beatyesterday . . @tirolertageszeitung @visittirol @austriancreators @austrianroamers @visitaustria @bergsteiger_steigauf @augenblickberg @intersport.at @hervis_sports @ig__austria @alpenvereinaustria @best.mountain.artists A post shared by Claudia (@clu_sch) on Sep 21, 2019 at 10:37am PDT
9. Brizzisee Lake (Samoarsee Lake)
One of Michael's favourite lakes is this wonderful tarn above Martin Busch Hut in Vent in Ötztal Valley.
View this post on Instagram Heute am Brizzisee was für eine Kulisse.?⛰???☀ @alpenliebe_official #ötztal #panorama #paradies #mountainpics #tirol #austria #gipfelstürmer #naturelover #brizzisee #herbst #gipfel #hiking #klettern #aussicht #alpen #mountains #felsenmeer #bergbilder #berge #bergsee #bergwelten #aussblick #nature #outdoorlife #summit #gletscher #tiefblick #glacier #autumn #similaun A post shared by Markus Herkommer (@markh_the_komer_) on Sep 29, 2019 at 2:35pm PDT
View this post on Instagram Am Samoarsee oberhalb der Martin Busch Hütte in den Ötztaler Alpen. . . #worldbpicture #landscape #mountainworld #mountainrange #bns_world #bs_world #igshotz_enjoy #amazing #nice #ignaturelovers #worldnature #visittirol #bestmountainartists #ötztal #austria #wandern #österreich #bestshooter_nature #outdoor #see #lovetirol #ötztal #the_best_shotz #igaustria #austrianalps #hiking #igmountain #tirol #samoarsee#amazing A post shared by voithj_allgäuer (@voithj_allgaeuer) on Oct 7, 2015 at 12:01pm PDT
10. Faselfadseen Lakes
Faselfad Lakes are a series of remote, glacial high mountain lakes in Verwall Mountain Range near St. Anton. These tarns sparkling in luminous, turquoise hues are located in a too-good-to-be-true setting and make a perfect destination for hikes, suggests Anne.
View this post on Instagram Es gibt keine Worte um solch schöne Eindrücke zu beschreiben! #bergwelten #bergliebe #indebergbinigern #collectmomentsnotthings #seelenbalsam #austrianplaces #discoveraustria #faselfadseen #tirol #austria #draussenzuhause #myhomeisoutdoor #mountainlove #mountainlife #schneidig #sosche #landscspelovers #naturelovers #landscape_captures #nature_perfection #stanton #stantonamarlberg A post shared by Stefan Schachl (@steveochio) on Aug 22, 2017 at 11:04am PDT
View this post on Instagram Faselfadseen Beautiful summer 2k18 #faselfad#faselfadseen #visitaustria #hausabendrot#stantonamarlberg #arlberg #sommer #visittirol #see #lake #summer #beautiful #helicopter#birthdaygift#rundflug#naturephotography#natur#nature#naturfotografie#natur#family#familie#natursee#summertime#sommerzeit#travel#urlaub#holiday#bestoftirol#tyrol#sommerurlaub A post shared by Haus Abendrot (@_hausabendrot_) on Feb 2, 2019 at 4:11am PST
11. Gufelsee Lake
The stunning Gufelsee Lake is located in the Lechtal Alps. Christian considers it one of the most beautiful Alpine lakes in Tirol. You'll need some gusto to leap into the frigid waters but that's just what he did!!
View this post on Instagram Gufelsee ? #lechtaleralpen #mountains #landscape #mountainlake #bergpic #visittirol #austria #bergsee #mountainlove #lake #exploretheworld #hiking #neverstopexploring #earthpix #lechtal #happyplace #view #panorama #roamtheplanet #beautifuldestinations #tirol #bergwelten #feelthealps #alpenliebe #gufelsee #bealpine #lovetirol #discoveraustria A post shared by Katrin (@lapalue) on Sep 3, 2019 at 10:08am PDT
12. Scheidseen Lakes
The Vorarlberg /Tirol border runs through Scheidseen Lakes, Michael discovered them on a MTB trip near St. Anton. The hard part is leaving once you've seen this tranquil spot in person.
View this post on Instagram ??? ______________________________________________ #tirol #visittirol #vorarlberg #visitvorarlberg #vorarlbergwandern #vorarlbergroamers #austria #visitaustria #austrianroamers #verwall #scheidseen #neueheilbronnerhütte #bergwelten #österreich #mountainlove @weloveaustria_official @enjoyaustria @discoveraustria @austrianroamers @austria___official @visitvorarlberg @visitaustria @visittirol @best.mountain.artists @bergwelten @meintraumtag A post shared by カレン (@_karen_101_) on Aug 28, 2019 at 12:34am PDT
What is your favourite Alpine lake in Tirol?