Tyrolean Kaiserschmarrn – the original recipe for Austrian Pancakes
Updated on 27.03.2018 in
Food & Drink
, Photos: Tirol Werbung
Pancakes are loved the world over, but in Tyrol, we have our own recipe. To discover Kaiserschmarrn, we sent Christine to Alpbach to find Maria and ask her about the original recipe for this versatile treat.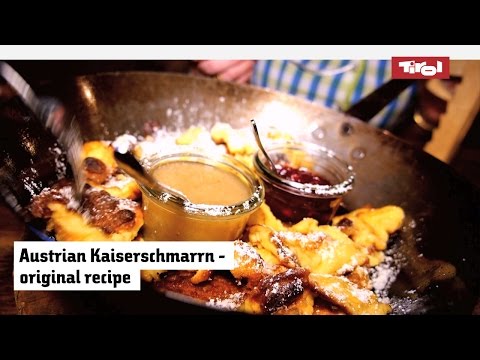 Ingredients (for 1 serving)
3 tablespoons of flour
3 eggs
1 pinch of salt
1 tsp – 1 tbsp of sugar (depending on the desired level of sweetness)
1 tsp vanilla sugar
Some milk
1 shot of rum (optional)
A handful of raisins (optional)
Butter or ghee (clarified butter)
Icing sugar
How to make:
Add the flour, salt, vanilla sugar and milk into a bowl and whisk until the dough becomes semi-solid. Carefully fold in the eggs and add the rum.
Heat a pan and lightly melt some butter or ghee. Once the pan is hot enough, pour the batter into the pan and sprinkle the raisins (remember, this part is optional). Back the pancakes on the lowest heat with the lid on top until one side turns golden brown. Turn the pancake, pop the lid back on and continue to bake.
Divide the pancake into pieces, sprinkle over some sugar and a knob of butter (or ghee). Put the lid back onto the pan and allow the sugar and butter to caramalise.
Once the pancakes are ready, serve them with cranberry, apple sauce or stewed plums.