New Directions: The Kitchen Chefs
Updated on 02.08.2021 in
People
, Photos: Verena Kathrein
Two men, one restaurant: Starting their own business was a dream come true for Waal Sterneberg (left) and Thomas Kluckner (right).
Regional, seasonal, and of course fresh products – that's what everyone wants on their plates nowadays. But what happens if the guests want to order a cucumber salad in winter? Or if there are no more beef filets left? The kitchen chefs Thomas Kluckner and Waal Sterneberg manage the balancing act of a modern inn.
"We run a restaurant for everyone who wants to enjoy life. Having fun is a must when walking through our door. That's why the quality of our products is so important to us. 95 per cent of our ingredients are from local producers, we cultivate vegetables in a small garden, and we even make our own cereal. Before opening the restaurant in 2018, we invested about two months of our time into visiting farmers in the surrounding areas. The offer around Seefeld is amazing. You know exactly where the products come from, and this influences our work. While preparing the meat, we always have the farmers in mind – there's often a friendship which connects us.
Looking Ahead
This article is part of the "Looking Ahead" series, which dives into the minds of individuals who have dared to step into the future, their story, and their views on Tirol.
Unfortunately, gastronomy has changed over the years when it comes to buying products; kitchen chefs can just order all the products they need from an extensive catalogue. However, this means that the appreciation for the farmer's work and the love for the profession is lost. Of course, it's also a question of cost. There are six of us working in the kitchen. Having so many employees is a business risk. But in our case we need them because we produce everything ourselves – from the pasta to the tomato sauce.
Family matter: The Meilerhof team sticks together – also in times of crisis.
Time and again, we have to explain our way of working to our guests. Why is there no cucumber salad in winter? Why is this dish not available although it's on the menu? Well, there are only two filets per animal – once these filets have been served, their gone. In the past, many restaurants in rural areas struggled. But we think that the inns will once again become an important meeting point in the future. People have become more and more isolated, are stuck to their phones or the internet, have got their headphones on, and cut themselves off from the outside world. Going out to eat is one of the few opportunities to socialise. The pandemic led to a lot of changes but at the same time brought us closer together. In 2020, as we were temporarily not allowed to cook for our guests, we founded a kind of Meilerhof communal family. Together with our families, we all moved into the Meilerhof. It brought us together as a team and it was a great time, even though that might sound strange.
Cooking time: Lunch time is rush hour in the kitchen of the Meilerhof – no convenience products but instead lots of home-made dishes.
Perfect location: The Meilerhof is located along the road between the Inntal valley and Seefeld.
In the future, the personal taste and the passion of the innkeepers will be decisive.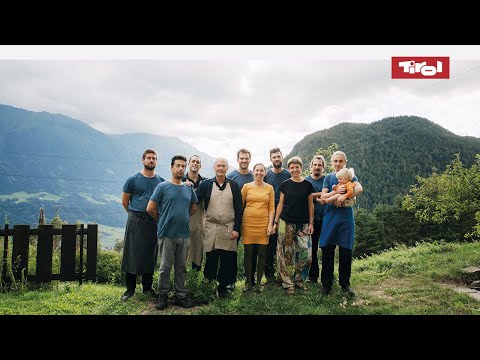 As an innkeeper and host you have to be creative and find new directions because many guests think twice before spending their money. Something that won't work is all the restaurant owners having the same concept and just thinking about their own businesses. We have to move in a new direction. In the future, the personal taste and the passion of the innkeepers will be decisive. This also requires courage. But what could go wrong? If you don't change anything, nothing at all will happen – then all you've done is just talk about it. We are not scared of trying out new ideas. The main point is that we have fun together."
Thomas Kluckner & Waal Sterneberg
The two trained kitchen chefs run the restaurant "Zoom." at the Meilerhof in Reith bei Seefeld. Their goal: redefining traditional dishes. They rely on regional products, their homemade cereal, and the vegetables from their garden behind the inn. In the kitchen they have the support of four colleagues – without them the amount of work involved would not be manageable. 33-year-old Waal Sterneberg is from the Netherlands; 38-year-old Thomas Kluckner is fro