The most beautiful Sledding Runs in Tirol
Updated on 09.11.2017 in
Sports
The Tirol offers a wide range of sledding runs and lot's of tobogganing fun. Paul, originally from Greece but now living in Innsbruck, shows us some of his favorite sledding terrains:
I arrived in Innsbruck on a hot summer day in August 2012. I remember driving over the Innbrücke, and feeling overwhelmed by the size of the Nordkette. So close and so huge! Please keep in mind that I am Greek and I grew up practically next to the sea. Plus the weather is sunny 90% of the time.
Coming here I naturally fell in love with the mountains. And to tell you the truth, I was looking forward to having a white Christmas and a snowy winter. My wish was fulfilled and as you can understand it was way more than I could have imagined.
Having spent already three winters in this beautiful part of the world, I learned to appreciate Knödel, living a healthy lifestyle and worshiping rodelling or sledding or however you want to call it. My first time on a Rodelbahn was in Maria Waldrast. That is why this is my favorite sledding track; it is true what they say about one's first love.
I learned how to drive my Rodel the hard way, yet I was very persistent and confident that I would make it. If a 5-year-old boy can do it properly, a 31-year-old man (back then) feels ashamed not even being able to do one turn without falling off. I was very ashamed. Well that was all the motivation I needed. Now, 3 years later, even my Austrian friends admit that I am doing a pretty good job on a Rodel.
So without any further a due, here are my favorite Rodelbahnen:
As I mentioned earlier, this is my first and one true love. A simply gorgeous Rodelbahn that is very well prepared during rodel season. The length is a little over 3.5km and the elevation is about 500m. The way up is separate from the way down, therefore more secure and easy going. And if you don't feel like walking up (about 75 minutes), you can always use the taxi. Yes, there's a taxi! The Gasthaus there is great, very spacious and there are plenty of choices for food and drinks.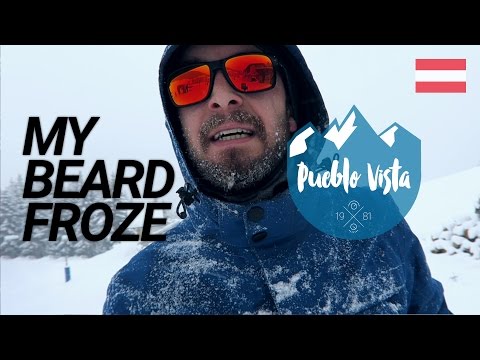 Stöcklalm / Naviserhütte in Navistal
Those two, I will actually treat as one since they are basically on the same Rodelbahn. The only difference is that one needs to walk an additional 15′-20′, in order to start from the Stöcklalm, a little bit further up the road. Very well organised with plenty of turns, this Rodelbahn requires a bit of skill. Not only for driving down, but also because it is a quite popular location, and you share the track with people that walk up. So be respectful and drive safely. Both huts are very warm and welcoming and offer a great panoramic view over the valley of Navis, all the way to the Serles (a very famous peak in Tirol). On a sunny day, it's just magic.
Elferlifte, Neustift im Stubaital
Last but not least, for the people (myself included) who want to rodel all day, without having to walk back up. Do visit the Elferlifte in Neustift. Lift, Rodel, Repeat. That is all you need to know, that is all you have to do. Two different ways to go down, one to take you straight to the lift and the other one to Schmieden, the village before Neustift, where you can catch a bus or walk back to the lifts. Of course you can walk all the way to the top, but keep in mind that you need about 2 hours to do that. These are two of the longest Rodelbahnen around with a length of almost 6.5 km each.
St. Magdalena, Halltal
This is my honorable mention, mainly because that particular place has great history that dates back to the early 1900s. This is a very difficult track, mainly because of the steepness and the high speeds. There are 3 serious turns throughout the track and the rest is long straight lines. Experience is a requirement for this one.