Tips for a Day in Mayrhofen
Local snowboard legend Thomas Eberharter, aka "Beckna", shows us around his home resort of Mayrhofen, tells us about the history of snowboarding in the region and explains why Mayrhofen is to snowboarders and freestyle skiers what Kitzbühel is to downhill racers. Away from the slopes, Thomas has some insider tips on where to eat and spend the night.
08:30 // Starting the day at Happy End
Ironically, we start our day at a café called Happy End next to the base of the Penkenbahn gondola. Thomas Eberharter, known to everyone but his parents as "Beckna", is sipping his morning coffee as we enter the place.
Sitting here in front of us is a legend, straight up. Despite his status as a godfather of the local snowboard scene, Thomas always says he is just a guy who loves snowboarding. He was born and raised in Mayrhofen and became one of the first snowboarders from Austria to turn pro and make a name for himself on the international scene.
These days you can still find him shredding the slopes in Mayrhofen – if he is not busy taking his kids to school, working as a photographer or greeting guests at his parents' hotel. Despite his busy schedule, Thomas takes a day off to show us around his hometown.
Another of his favourite coffee spots in the village is the Bäckerei Kostner in the heart of Mayrhofen. As well as excellent coffee, he tells us, they also have some great cakes and very friendly service. Before we head out onto the slopes, there's one thing I have to ask him. Where does his somewhat unusual nickname come from? "My grandpa and uncle were both bakers," he says. At some point he became known among his snowboard friends as "Beckna", from the German word for baker ("Bäcker").
09:00 // Read for a little harakiri?
The fabulous new Penkenbahn gondola whisks us in less than ten minutes from the centre of Mayrhofen up into the resort. A short chairlift ride then takes us to the top of the thrilling Harakiri run, which has a claim to be the steepest in-bounds ski run in Austria. Thomas swoops down as if it were a beginner slope for kids. I take things a little slower.
10:00 // Home from home: Van Penken Park
We ride the Sunjet chairlift to the top of the terrain park. The Vans Penken Park has played a big part in Thomas' passion for snowboarding – in fact, he and his friends laid the foundations for today's park, which he calls his "home from home". He and his friends were the pioneering park designers and shapers. "There would be ten of us and we would all work for a whole week shovelling snow to make jumps and a halfpipe. We never imagined that snowboarding would evolve into what it has become today and that they would even give snowboarders their very own lift servicing nothing but the terrain park."
Snowpark visitors and sun-seekers outside the Grillhofalm.
Today, the Vans Penken Park at Mayrhofen is widely regarded as one of the best terrain parks in the Alps. It's the reason why for many Mayrhofen is to snowboarders what Kitzbühel is to downhill skiers. And while there might be bigger and longer parks elsewhere, the fact that it has its own lift means snowboarders and freestyle skiers can get in far more runs in a session than at most of the other funparks.
12:00 // Time for lunch on the mountain
Shredding and ripping at Vans Penken Park has given us an appetite. Most of the terrain park crowd use the nearby Grillhofalm for lunch, but there are plenty of other options for on-mountain dining. We head over to the stylish Schneekarhütte, where Thomas often goes with his wife and two children. He recommends the "Flammkuchen". On the menu is a range of regional dishes made from locally sourced, organic ingredients. And after lunch you can sip an organic Fairtrade coffee. The Schneekarhütte is more expensive than some other mountain restaurants, but it is definitely worth it.
The Schneekarhütte offers up a variety of gourmet choices served in a stylish but informal setting.
When it comes to food, Thomas also recommnds the Gschösswandhaus, located on a precipitous cliff overlooking Mayrhofen and Zillertal Valley, Christa's Skialm atop the Penkenjoch ridge, and the Ahornhütte perched on the opposite side of the valley.
13:30 // Breathtaking views from Penkenjoch
After the first few runs of the day, Thomas takes a little time-out to savour the views from the top of the Penkenjoch ridge.
The Schneekarhütte hut slowly disappears into a sea of clouds. On a clear day, Thomas tells me, the views up here are amazing. "You can enjoy a 270-degree panorama of the Zillertal Alps, from the Tristner mountain and the Grünberg peak to the craggy summit of the Zsigmondyspitze. "I was born and raised here, but when the sun is shining and the snow is deep there are some views which still take my breath away." This profound love of the place can be seen on his Instagram site called becknaphoto, where Thomas regularly posts snaps showing the beauty of the Zillertal Valley.
Ski slope in Mayrhofen.
15:00 // Time for a little shopping
Thomas at the Mountain Shop with Patrick Hörhager.
"The Mountain Shop on the main road, which is owned and operated by the Hörhager family, is for me the place to go when it comes to outdoor sports equipment and clothing. Patrick Hörhager is a passionate paraglider pilot himself and has competed in – and won – tough relay and endurance races such as the Dolomitenmann in East Tirol and RISE&FALL in Mayrhofen. They know exactly what they are talking about and will make sure you get the gear you need," he says. It is here that Thomas recently bought his new avalanche backpack with an in-built airbag. Patrick explains how the airbag system works in case of an avalanche. The Mountain Shop also stocks the "Unbreakable" eyewear line by local Tirolean sunglass brand Gloryfy.
Avalanche backpack.
Afterwards we meet good friend and fellow snowboarder Wolfgang Nyvelt, aka "Wolle", who has invented the Äsmo Pow-Surfer, a board where he has ditched traditional snowboarding bindings for the freedom of riding pow just like on a surfboard. Using this pow-surfer means riding the deep and the steep just like the waves of Bali – a serious challenge but an amazing feeling if you have the skills.
16:30 // Where to stay the night
From high-end luxury and typical rustic mountain lodging to quaint B&Bs, Mayrhofen offers an accommodation option for every taste and budget. If you can stretch to it, the four-star Hotel Elisabeth is Thomas' number one tip. Owned and operated by the Moigg family, it is a short walk from the centre of Mayrhofen. "For me, it's the best of both worlds – traditional but contemporary. It is authentic and has a casual, laid-back feel to it. It's not the cheapest place in town, but it really is worth it," says Thomas.
Elisabeth Hotel.
Our day at Mayrhofen comes to an end at Landhaus Carla, the three-star hotel owned by Thomas' parents. It is conveniently located right opposite to the terminus of the historic steam railway which runs the length of the Zillertal Valley.
Landhaus Carla.
Thomas can often be found at the hotel welcoming guests and giving them tips on what to see and do in the region. "What sets the Zillertal Valley and its people apart from others is that we always strive to exceed our guests' expectations. For us locals, hospitality is a way of life. There is a lot of tourism here these days, for sure, but we aim to treat everyone as a friend. In the mornings I am here to help answer any questions guests may have while they are on holiday. I tell them where to find the best snow and the most memorable lines depending on the snow conditions and weather. I think people appreciate things like that." It's been a great day exploring Mayrhofen together. Thanks a lot, Thomas!
Here you can see the video of our visit to Mayrhofen: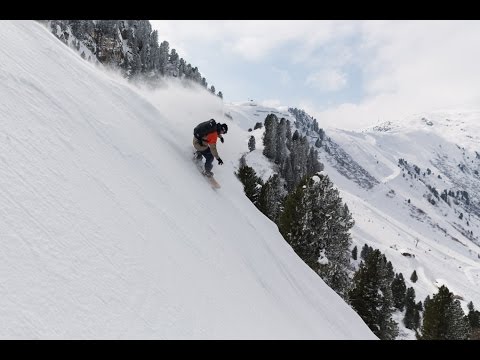 Click here for more information about Mayrhofen and the surrounding region.