Checklist: Packing for a Day Hike
Updated on 30.04.2019 in
Sports
Want to know which rucksack to use when hiking in Tirol and how to pack it? Christine asked mountain guide Mike Rutter.
As well as choosing the right size rucksack, one of the most important things is to make sure that you have everything you need for an emergency whilst at the same time not dragging around too much. In this video Christine and Mike explain what to pack in the rucksack and in which order. The full list of items can be found below and printed out.
More tips for hiking in Tirol! Anne has put together some general tips on hiking equipment.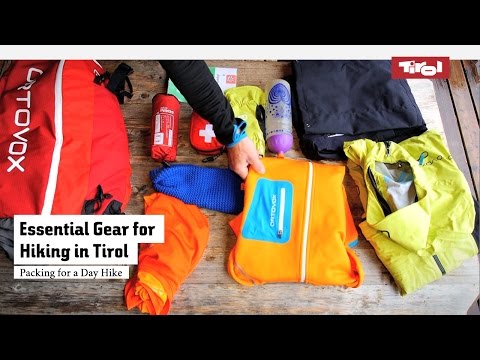 Checklist for packing your rucksack:
Top pocket
Hiking map
Blister plasters
Fully charged mobile phone (emergency phone numbers: mountain rescue 140, European emergency service 112)
Pocket knife
Cash
Front
Snack
Drink bottle
Sun protection (sun cream, sunglasses, cap, etc.)
Centre/back
Bivouac sack
First aid kit
Gloves and woolly hat
Headlamp
Bottom
Spare T-shirt
Rain jacket
Fleece
Optional (depending on weather):
Waterproof trousers and small umbrella
Download: Rucksack Packing Checklist for Single-day Hikes
Learn more about packing for Multi-day Treks in this video and download the Rucksack Packing Checklist for Multi-day Hikes: